One of the hottest class projects at Free State High School runs on three wheels and is powered by the ingenuity of students and a local racing pro.
Rob Wendland, a Lawrence top-fuel dragster crew chief, is in the second year of an electric car-building project with students in technology classes taught by Troy Damman at Free State.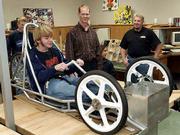 "If he had not been here," Damman said, "we would not have built it."
After all, Free State doesn't even have a welding shop.
Students in computer-aided drafting and industrial design courses have worked on the project in school and at Wendland Performance's shop. The company is an official business partner with Free State.
"I have a lot of time and effort in it ... but I'm a Lawrence High graduate and I felt compelled to help these guys out," Wendland said.
On Tuesday, sophomore Andy Alldredge and his classmates personally thanked Wendland for his commitment to the project.
Alldredge, who claims to have a need for speed, got a rush simply from sitting in the cockpit of the car during class. He knew he was being cradled by more than a toy.
"I'd guess it will run about 60 miles an hour," Wendland assured him.
Techniques that Wendland honed through professional racing have been deployed in construction of the 9-foot-long, aluminum-and-fiberglass electric car. Students have tested design options to help figure out which components to use.
"We've worked from our own ideas," Wendland said. "This was not done with designs we went out and purchased."
The goal is to enter the car in races next spring against electric vehicles built at other Kansas high schools. The object of the races will be to determine which car can circle a track the most times in one hour.
Free State has a good chance of being competitive, given that its frame weighs a mere 18 pounds. Some cars in previous races have weighed in at several hundred pounds.
"It looks primitive, but the idea is to be as light as possible," Wendland said.
Damman said the project will cost about $2,500. Corporate sponsors will be sought to help defray racing costs, he said.
After the spring races, Free State students will have a better idea how they might upgrade the car for future races.
"You have to keep up with the Joneses," Wendland said.
Copyright 2018 The Lawrence Journal-World. All rights reserved. This material may not be published, broadcast, rewritten or redistributed. We strive to uphold our values for every story published.