The surge in giving this fall to Sept. 11 relief efforts has left some nonprofit agencies short on donations for the holidays.
The slowdown in the economy also has affected those who give and has not made it any easier on those who need help.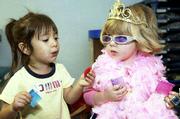 "This is a time when people may have to choose between buying food and buying a toy because they just don't have the money," said Michelle Heller, director of the Roger Hill Volunteer Center.
Many nonprofit agencies have holiday programs that provide toys, clothing and food to low-income families. These programs are usually funded entirely by donations.
The Ballard Community Center has about 125 families in its holiday program, said Chip Blaser, development director.
The center still needs people who can adopt a family this year.
"There's a lot of groups, organization and families who really enjoy adopting families each year," Blaser said. "People tell me that it really gets them into the holiday spirit each year that they can give to someone less fortunate than they are."
At the Kaw Valley Center, director Megan Edmonds said the center gives gifts to the 200 children in state custody. The center serves a seven-county region and has about 80 children in Douglas County.
"We are nonprofit, and we survive on donations," Edmonds said.
The Center has an angel tree at K-Mart and also will accept donations of toys, clothing and present-wrapping supplies at any of its four offices, which are in Lawrence, Ottawa, Atchison and Kansas City, Kan.
"We want to make sure every child in custody has a gift from us," Edmonds said.
Here's how to help:
l Ballard Community Center Serves low-income families that need food, clothing and gifts. Call 842-0729.
l Community Drop-In Center Provides showers, referrals to services, lockers and a warm place for the homeless. Needs socks, gloves and other cold-weather items. Call 832-8864.
l ECKAN Seeking groups or families to adopt a low-income family. May donate food or money. Call 841-3357.
l Kaw Valley Center Serves children in custody of the state. Needs gifts, clothing and luggage. Call 331-4200.
l LINK Serves hot meals. Donate food or money for meals or help serve. Call 865-3985.
l Pelathommunity Center Serves low-income families and needs help restocking food pantry or assisting a family this holiday. Call 841-7202.
l Salvation Army Needs volunteer bell ringers or people to help fill out assistance forms. Also has an Adopt A Family program to help low-income people. Call 832-8864.
l Women's Transitional Care Services Offers shelter for abused women and their children. Adopt a mother and her child or children. Call 843-3333.
Copyright 2018 The Lawrence Journal-World. All rights reserved. This material may not be published, broadcast, rewritten or redistributed. We strive to uphold our values for every story published.