Convinced an area gun show promoter didn't shoot straight with them, county commissioners Monday decided to accelerate enactment of new restrictions on gun shows at the county fairgrounds.
But the promoter said commissioners were against the shows anyway. So, he'll likely just oblige them and take his business down the road.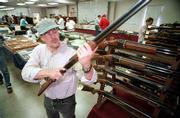 "I think it just goes to show that they don't want gun shows at the fairgrounds period, and no matter what we say or do will change their minds," said Steve Vogelsang, a partner with S.O.B. Shows. "We'll probably give them what they want and take our business elsewhere."
At their meeting next Monday, commissioners will consider rewriting recently adopted new regulations so that S.O.B. Shows can't have a scheduled Sept. 6-7, 2002, show at the fairgrounds using old rules allowing private individuals to sell or trade guns without running background checks on purchasers.
The new county rules require background checks on all buyers but included a "grandfather" clause allowing already scheduled shows to operate under the old, looser regulations. Now, commissioners plan to strip the "grandfather" clause from the new regulations.
Here's why:
Commissioners originally were to approve the new, stricter regulations at their Oct. 29 meeting, but Vogelsang asked Commission Chairman Bob Johnson to delay that meeting because he could not attend that date.
Johnson accommodated Vogelsang's request. Then he later found out that during the delay S.O.B. Shows signed a contract for the September 2002 show at the fairgrounds, apparently aiming to book one more "grandfathered" event before the new regulations took force.
"I don't think they were dealing with us in good faith," Johnson said. "If I would have been asked that evening to allow another show, I probably would have said OK, but not this way."
Vogelsang said his company didn't ask for the delay to deceive commissioners. But he said he likely will move the September show to a different venue rather than comply with the new regulations.
Copyright 2018 The Lawrence Journal-World. All rights reserved. This material may not be published, broadcast, rewritten or redistributed. We strive to uphold our values for every story published.