A ban on smoking in Kansas University residence halls won't come soon enough for Erin Nied.
Nied, a freshman education major, requested a nonsmoking room at McCollum Hall this year but ended up with a roommate who smokes.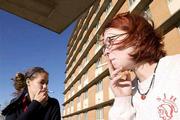 "The whole room smells like smoke," she said. "You walk on some floors of McCollum, and you can just smell the smoke."
Ken Stoner, director of student housing, says a complete ban on smoking in KU residence halls is inevitable, but it won't come any earlier than next school year and maybe later, depending on what he hears from students.
Nine Big 12 schools already have banned smoking. Kansas State University went completely nonsmoking this fall. But while other schools essentially quit cold turkey, KU has favored the incremental approach.
Stoner said the number of smoking rooms at KU has dropped steadily over time. Currently, smoking is allowed on 54 residence hall wings and banned on 55 wings. Three residence halls Templin, Lewis and Ellsworth have nonsmoking rooms.
"We've been going more and more nonsmoking each year," Stoner said. "The question is, is this the time to make it all nonsmoking? It's an eventuality; it's just a matter of how you phase it in."
Stoner said 7 percent of students requested smoking rooms this year. He said complaints about smoking are the most common problems between roommates.
"No matter what you do or where you have it, there are ventilation problems, drift problems, people who have allergies," he said.
But not all students favor a ban.
Molly Wetta, a freshman in political science, lives in a smoking room in Hashinger Hall. Though some people are bothered by smoke, she said plenty of people just live with it.
"At least some of the rooms should be smoking because sometimes it's too cold to go outside," she said.
Peter Crevoiserat, a freshman English major, is a smoker who lives in a nonsmoking room at Hashinger Hall. He was smoking outside the hall Monday afternoon.
"I was a nonsmoker for a long time and didn't agree with (smoking) but now I do," he said. "It seems like there is plenty of space for smokers in the dorms. This is state property, but I don't see where the state has the right" to ban smoking in rooms.
Stoner said he's seeking input from student groups on the issue. He's hoping to make a decision by early next semester before housing contracts are distributed for the 2002-2003 school year.
He said it's a question of when not if smoking is banned in the halls, and he's leaning toward sooner than later.
"My inclination would be to get it over with," he said.
Copyright 2018 The Lawrence Journal-World. All rights reserved. This material may not be published, broadcast, rewritten or redistributed. We strive to uphold our values for every story published.