CAPE GIRARDEAU, MO. — Katherine Parrish stood at the front of her class in Dempster Hall, looked at a large television screen on the back wall and asked, "Malden, Poplar Bluff, can you hear me?"
A few seconds later, two quiet voices murmured, "Yes," from speakers around the room.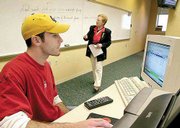 "OK, then let's get started," Parrish said as she turned and headed to the board.
That's how Parrish started a recent Grammars of English class at Southeast Missouri State University, and that's how she starts each of her Interactive Television (ITV) courses.
ITV classrooms allow classes like hers to be broadcast in real time to students in Kennett, Malden, Sikeston and Poplar Bluff, where the classes would not usually be taught due to a lack of instructors.
Four ITV courses were offered at Southeast in 1995. In six years, the only thing that has changed has been an increase in the number of courses 25 this year and a decrease in technical difficulties.
That growth caused a demand for extra classrooms in the Poplar Bluff and Bootheel centers: Kennett, Malden and Sikeston. Phil Osborne, ITV operations supervisor at Southeast, said each of those centers will get a second ITV classroom in the next couple of years. The Sikeston room will be ready by the end of the year, while Kennett is currently seeking bids for a new room.
ITV courses aren't only for university-level students.
The new Career and Technology Center in Cape Girardeau has an ITV room and will offer its first courses next semester. But Rich Paine, assistant director of the center, said the classes won't likely be from Southeast. He said they are looking for classes not offered at Southeast such as a library sciences course taught at Central Missouri State University.
The classes offered at the Career and Technology Center will be available for all of the students, including those from the nine area high schools it serves.
Central High School principal Michael Cowan said when the new high school opens next fall next to the center, the uses for new technology will be endless.
"Once we're at the new school, we'll have golden opportunities," Cowan said. "I'm very interested at the opportunities to enrich our curriculum."
Copyright 2018 The Lawrence Journal-World. All rights reserved. This material may not be published, broadcast, rewritten or redistributed. We strive to uphold our values for every story published.