St. Paul, Minn. — Minnesota hockey fans have two more reasons to hate the Dallas Stars: Sergei Zubov and Joe Nieuwendyk.
Zubov scored two goals in less than a minute, and Nieuwendyk also had two goals and an assist Sunday as the Stars held off the Minnesota Wild 4-3. It was the Stars' second win in Minnesota their former home since moving to Dallas after the 1992-93 season.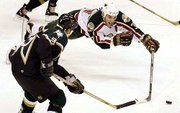 "I think it's a rivalry. The fans are into it," said Nieuwendyk, who was with Calgary when the Minnesota North Stars relocated. "They haven't forgotten (the Stars) around here. The intensity is still there."
The teams split their four-game series last season, the Wild's first in the NHL.
Sunday's crowd of 19,042 fans made it the largest attended hockey game ever in Minnesota, and also marked the 55th consecutive sellout for the Wild.
Tied 2-2 in the third period, the Stars caught a break when Zubov's high shot from just below the blue line deflected off Filip Kuba's glove and landed in the net at 8:23. Just 57 seconds later, Zubov standing in nearly the same spot fired in a shot through a slew of defenders to make it 4-2.
"He's a threat from the point," Dallas goalie Marty Turco said. "With a shot like his and his accuracy, it's tough to stop."
Minnesota pulled back within a goal when Pascal Dupuis picked up a rebound at the right circle and shot it past Turco at 11:31. The Stars held off a furious Wild rally to come away with the win.
"We played the best we could," Wild coach Jacques Lemaire said. "We just needed a couple of breaks to win."
The reshuffled Stars finally caught a break of their own. After acquiring Martin Rucinsky, Benoit Brunet and Dave Manson in deals with Montreal and Toronto on Wednesday, Dallas looked solid both on offense and defense.
Rucinsky recorded his first point for Dallas with an assist in the first period.
"It's really nice to have two points," said Zubov, whose team had tied four of its last eight games. "We were close to the tie again. It's nice to get over the top and get a win."
Red Wings 4, Blackhawks 4
Detroit Eric Daze scored two third-period goals and Chicago recovered from a three-goal deficit to tie Detroit. Alex Zhamnov and Kyle Calder also scored for Chicago, which is tied with Dallas for the most ties in the league with six.
Lightning 4, Hurricanes 0
Raleigh, N.C. Pavel Kubina and Tim Taylor scored short-handed goals 57 seconds apart, and Nikolai Khabibulin earned his 25th career shutout as Tampa Bay beat Carolina. The Lightning and Khabibulin shut out the Southeast Division-leading Hurricanes for the second time in eight days to snap a seven-game road losing streak.
Blue Jackets 4, Flames 3
Columbus, Ohio Robert Kron had a goal and an assist, leading Columbus over Calgary. Kron's second goal of the season gave Columbus a 3-1 lead in the second period. Ron Tugnutt made it stand up, stopping 29 shots for his first victory in nine starts (0-7-0-1) since Oct. 19. Columbus scored more than three goals in a game for just the second time this season. Calgary sat goalie Roman Turek (13-2-4) for a second straight game. Mike Vernon, who made just 12 saves, has been in for all four of Calgary's regulation losses.
Mighty Ducks 3, Rangers 2
New York Marty McInnis and Paul Kariya scored second-period power-play goals as Anaheim ended a six-game losing streak by beating the New York Rangers. The Mighty Ducks were 0-8-1 in their last nine games and had lost all five previous games on a six-game road swing. But they ended their slump by beating a team they've dominated since entering the NHL in 1994.
Canucks 4, Flyers 1
Philadelphia Markus Naslund scored two goals to lead Vancouver past Philadelphia. Matt Cooke and Henrik Sedin also scored for the Canucks, and Dan Cloutier made 23 saves for his first victory over Philadelphia in five career starts. Simon Gagne had the only goal for the Flyers.
Copyright 2018 The Associated Press. All rights reserved. This material may not be published, broadcast, rewritten or redistributed. We strive to uphold our values for every story published.