Toronto — The Philadelphia 76ers finally lost a game with Allen Iverson on the court.
Vince Carter scored 30 points, and Dell Curry added 18 as the Toronto Raptors snapped the 76ers' seven-game winning streak Sunday with a 107-88 victory.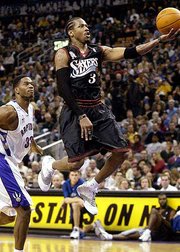 Philadelphia started 0-5 while Iverson was recovering from elbow surgery. The winning streak began with Iverson's first game.
"Something unusual happened today. We got outhustled," Iverson said. "They just played better than us. You have to tip your hat."
Iverson was 1-for-10 from the field in the second half, finishing with 18 points and eight assists. Aaron McKie had 23 points, and Derrick Coleman had 21 for the 76ers, who played the Raptors for the first time since eliminating them in the second round of last season's playoffs.
"Allen didn't have 50, and that was a moral victory in and of itself," Carter said.
Curry said Alvin Williams and Chris Childs made Iverson work for his shots.
"They cut the lanes to the basket off, and made him take tough shots," Curry said. "Philly won seven in a row with him back, and that shows what kind of presence he has on that team."
Toronto, which shot 50 percent, started the game with an 11-0 run.
The 76ers pulled within two, but Carter scored nine points in the second quarter, and the Raptors led by nine at halftime.
Philadelphia, which was down by as many as 15 in the second half, narrowed the deficit to 11 on Dikembe Mutombo's 3-point play with 6:03 left.
Carter followed with a spectacular reverse dunk after Keon Clark deflected a rebound to Curry, who caught it at halfcourt, and then threw it up for Carter.
"That was a beautiful finish," Toronto's Hakeem Olajuwon said. "It was a great game to watch."
Coleman's dunk narrowed the lead to 11 again, but Toronto followed with an 8-0 run to seal the victory.
Carter and Clark hit jumpers, Davis had a dunk, and Carter had another alley-oop dunk to give Toronto a 100-83 lead with just under three minutes remaining. The 76ers allowed 100 points for the first time.
Clippers 90, Rockets 83
Los Angeles Elton Brand has given the Los Angeles Clippers good reason to keep expecting big things from him and themselves.
Brand scored 21 points and grabbed 10 rebounds in a 90-83 victory over the Houston Rockets, the 10th straight game the third-year forward scored at least 20 points.
"I really worked hard this summer to try and improve my game," said Brand. "I've gained a lot of maturity and I've learned what the other team is going to do where the double-team is coming from and how to get the ball to my open teammates."
Rockets leading scorer Steve Francis, who missed the previous game because of a sore left foot, fell on a drive to the basket and struck his head against teammate Kevin Willis' left knee with 3:51 left in the third quarter.
Francis returned briefly, but left for good with 18 seconds left in the period when the pain in his foot flared up. He finished with a team-high 17 points, and his status for Tuesday night's home game against Sacramento is unknown.
"It just felt like something popped," Francis said. "It got really hot, so I just ran off the court. I'll go to the doctor tomorrow, get it X-rayed and see what's up."
Houston forward Glen Rice, who played 24 scoreless minutes in Friday's loss at Seattle, keyed a 14-0 run with a pair of 3-pointers, an 11-footer and a layup as the Rockets sliced a 21-point second-quarter deficit to 58-53 with six minutes left in the third.
SuperSonics 99, Pacers 88
Seattle The Seattle SuperSonics sound happy that they couldn't find any takers for Vin Baker and his $87 million contract during the offseason.
Baker returned to the lineup after missing seven games and scored 19 points Sunday night as the SuperSonics built a two-game winning streak for the first time this season .
Baker, the four-time All-Star coming off the worst season of his NBA career, played 33 minutes and shot 8-for-15.
Before the game, Sonics coach Nate McMillan said Baker's bruised left knee was 75 percent, but that the forward had talked his way back onto the court by saying he wanted to play badly.
"I thought he got up and down the floor well for us and established some post position," McMillan said. "He gave us a big body, he looked fresh and he allowed us to do a number of different things."
Rashard Lewis scored 24 points as Seattle's sixth man, while Gary Payton had 20 and Brent Barry 17 for the Sonics.
Lakers 105, Nuggets 98
Los Angeles Shaquille O'Neal scored 22 points and made a pair of key free throws in the closing seconds as the Lakers ran their NBA-best record to 12-1.
O'Neal missed two free throws with a minute left, but Devean George rebounded and scored to give the Lakers a 98-96 lead. O'Neal was fouled again with 43 seconds remaining and made both free throws to make it 100-96. He finished 4-for-13 from the line.
The Lakers' victory, their second over the Nuggets in four days, came despite a 34-point performance by Denver's Nick Van Exel. Kobe Bryant scored 25 points, including a driving layup and free throw with 26 seconds left.
The Lakers received a boost from the return of Derek Fisher, who had not played this season after undergoing surgery on his right foot during the off-season. Fisher scored 14 points.
Warriors 101, Nets 85
Oakland, Calif. Antawn Jamison scored 15 of his 22 points in the second half, and Erick Dampier had 11 points and 14 rebounds.
Rookie Jason Richardson had 12 points and two electrifying dunks.
Jason Kidd had 16 points, eight rebounds and eight assists and Kenyon Martin had 19 points for the Nets, who had a quiet end to an eventful five-game West Coast road trip. New Jersey maintained its lead in the division and the franchise's best-ever start despite playing four games in four different cities in five nights. Danny Fortson, the NBA's leading rebounder, had 16 points and eight rebounds for Golden State, which had a 21-2 surge in the third quarter to erase an eight-point deficit.
Copyright 2018 The Associated Press. All rights reserved. This material may not be published, broadcast, rewritten or redistributed. We strive to uphold our values for every story published.