New York — Lured by big discounts and fears that must-have holiday items will be in short supply, consumers crowded malls and shopping centers over the Thanksgiving weekend, snapping up video games, DVDs and anything to do with Harry Potter.
However, the weekend's receipts won't be the bonanza some merchants hoped for.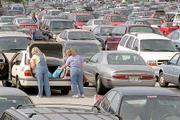 Early-bird specials and other bargains from big chains like Wal-Mart Stores Inc. attracted consumers who were already frugal before the Sept. 11 terrorist attacks prompted them to further curtail their spending. The come-ons worked, giving the value-priced retailers satisfactory sales.
But other merchants, particularly department stores and specialty stores that have been languishing for months, barely met their modest expectations for the weekend, the start of the holiday buying rush.
"Retailers pushed real hard. Traffic was strong, but sales were less strong," said Jeffrey Feiner, managing director of Lehman Brothers Inc., who estimated sales at the 22 retailers he follows were at best unchanged from last year's Thanksgiving weekend.
In fact, Feiner said his holiday forecast of a 2 percent gain in sales of stores open at least a year might be too optimistic.
"Most stores entered the shopping period with low expectations, and many met those expectations this weekend," said Kurt Barnard, president of Barnard's Retail Trend Report. "But deep down they were hoping to get better than what they got. There was a lot of window shopping."
Barnard and others said sales were solid Friday, but cited a sharper-than-expected drop in sales on Saturday and Sunday.
Meanwhile, TeleCheck Services Inc., a check approval service, reported sales paid for by check at stores open at least a year rose 2.4 percent on Friday from last year. Checks account for about a third of retail spending and remain second to cash as the most popular method of payment. The increase was in line with its forecast for a 2 percent gain.
The Thanksgiving weekend isn't necessarily a good indicator of how retailers will perform for the entire season. In the past few years, the weekend accounted for less than 10 percent of sales, according to the International Council of Shopping Centers.
One thing retailers have on their side is the longest shopping season since 1990. There are 32 days between Thanksgiving and Christmas this year; last year had just 24.
Copyright 2018 The Associated Press. All rights reserved. This material may not be published, broadcast, rewritten or redistributed. We strive to uphold our values for every story published.