Lawrence state legislator Sandy Praeger has been quietly campaigning and raising money for her bid to become the next state insurance commissioner.
"So far, so good," said Praeger, a Republican who is vice president of the Senate and chairs that chambers' committee on insurance issues.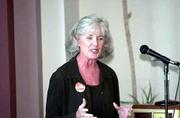 Praeger said she has probably raised $50,000 to $75,000 in campaign contributions and recently visited several towns in western Kansas to campaign.
One of her early opponents, Robert Tomlinson, a state representative from Roeland Park, recently dropped out of the race, citing personal reasons. Walker Hendrix, also of Lawrence and the chief attorney for the Citizens' Utility Ratepayers Board, has said he is considering running but hasn't made a final decision.
Praeger's remaining opponent in the Aug. 6 primary is Bryan Riley, a Wichita insurance agent. Riley, a political newcomer in 1998, was the Republican nominee for insurance commissioner then but was defeated by incumbent Democrat Kathleen Sebelius.
This election cycle, Sebelius is running for governor, creating an opening for the $74,147-per-year job that regulates Kansas' $10.5 billion insurance industry. No Democrat has announced candidacy for the insurance commissioner's post.
Should Praeger or Hendrix eventually win the job, it would return the commissioner's post to a Lawrence resident. The three commissioners prior to Sebelius came from Lawrence Frank Sullivan, Fletcher Bell and Ron Todd and had the job for a total of 47 years.
Riley said he will probably start trying to raise money in earnest after the holidays.
Praeger and Riley both said the ability to provide affordable health insurance will probably be one of the main issues during the campaign.
Several companies that sell individual health insurance policies have left the state, creating a void that is felt especially in rural, farming areas. Other problems include the increasing cost of health care, a primary factor in many working Kansans going uncovered.
As a legislator, Praeger said she expects to be pushing several initiatives to help make health insurance more accessible, including perhaps tax credits for small companies that offer coverage to their employers.
But Riley blames Praeger for some of the increasing costs of health insurance, citing her advocacy of a bill opposed by insurers that made coverage of mental illnesses more on par with benefits provided to persons suffering physical ailments.
"Government shouldn't be in business of telling people what kind of insurance they have to pay for," Riley said.
Praeger has defended the so-called mental health parity bill, saying that any nominal increase in premiums caused by the measure will be offset in the long run by people being able to get mental health treatment when they need it. Also, she has argued, it is only fair to offer coverage of mental illnesses similar to that of physical illnesses.
Praeger said that if elected insurance commissioner, she will strike a balance between insurers and consumers. "The insurance department is a regulator and advocate for a good economic climate for the insurance industry, which is good for consumers. You need to have a pro-business attitude and a consumer focus.
"Consumer advocacy goes both ways. If insurers need a higher premium paying a little higher premium is probably better than no policy at all," she said.
Riley said his background as a long-term care insurance salesman makes him more qualified to determine what consumers need. "I have employers telling me that they can't talk about offering long-term care insurance because they're dealing with double-digit health insurance costs. The Legislature shouldn't be making it harder for them," he said.
Copyright 2018 The Lawrence Journal-World. All rights reserved. This material may not be published, broadcast, rewritten or redistributed. We strive to uphold our values for every story published.