Los Angeles — Hounded for years by photographers, Brad Pitt can't escape his star status.
He tries to on film, though, forgoing leading-man roles to subsume himself in ensemble pieces such as "Snatch" or to play subordinate roles in films like "12 Monkeys" and "Interview With the Vampire."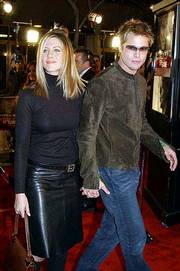 After a couple years of burying himself in what he calls "more obscure and subversive things" "Fight Club," "Snatch" and "The Mexican" Pitt chose some more commercial and accessible projects.
He co-stars with Robert Redford in the espionage thriller "Spy Game," which opened Wednesday, and plays one of the marquee-name cogs in the upcoming casino-heist remake "Ocean's Eleven," featuring George Clooney, Julia Roberts, Matt Damon and Andy Garcia. And there was his Thanksgiving night guest spot opposite wife Jennifer Aniston on "Friends" (playing a high school enemy of Aniston's character).
"You could call it shameless self-promotion in conjunction with a film release, and that's part of it," Pitt said, referring to the TV episode airing a day after "Spy Game" opened. "On the other hand, it's working with my wife, which I wanted to do, and working on this show that has this incredible ability just to make you happy.
"The third factor is, I see laughter as very important in this time" considering the terrorist attacks, Pitt said. "If we're entertainers, and some would argue with that, but if we are, let's get out and entertain."
Pitt, 37, spoke over a burger, fries and a couple of cigarettes after requesting this interview to respond to fallout from recent comments he made in print.
In its December issue, Vanity Fair ran a cover story on Pitt in which he discussed going into therapy off and on for a year and a half. Misreading his quotes, some TV and online outlets reported that Pitt admitted having a nervous breakdown. Vanity Fair issued a news release stating that Pitt did not have a breakdown and that news organizations had misinterpreted his statements.
Such misinterpretations are "reckless journalism," said Pitt, who studied journalism in college. "I know it's a competitive market and everyone wants the scoop. But to me it's a dangerous road we're going down. I don't see a bull's eye on my back. ... But it's OK for me. I'll be the fruit loop of the month, if you want me to. I don't mind, really."
Another magazine article early this year, when Pitt's "The Mexican" hit theaters, had the actor calling former President Clinton a phony over how he handled his extramarital flings.
For the record, Pitt said he remains an admirer and that his comments were taken out of context. The "Clinton is a phony" quote came during a discussion of how Americans do not "want our leaders to be human or completely honest," Pitt said. "We need them to fake their way through it."
"The last thing I wanted to do was participate in any kind of Clinton bashing," Pitt said. "He's been my absolute favorite as long as I can remember. Out of respect to him, I want to set that straight."
And for the record, Pitt said he did not have a nervous breakdown. He intended his comments as a positive discussion about how he benefitted from therapy.
"Nothing more than taking a class on yourself, a semester. It doesn't mean you have to be in some psychological peril or have these problems from childhood that are dictating your life," Pitt said.
"I found it as something very exciting, a redirection of understanding," Pitt said. "The other issue is this. As I begin a family, as my wife and I begin a family, I don't want to pass on any dysfunctions, no matter how minor or innocuous they might be.
Which begs a side trip to another false news report last summer, that Pitt and Aniston, who married in July 2000, were expecting a baby. Pitt said they plan to have children, but that's down the road.
"I don't know how near that is and won't know any time soon," he said.
Copyright 2018 The Associated Press. All rights reserved. This material may not be published, broadcast, rewritten or redistributed. We strive to uphold our values for every story published.