All the national championship controversy is behind No. 1 Miami for a change.
A win over No. 14 Virginia Tech on Saturday, and the Hurricanes (10-0) clinch a spot in the Rose Bowl with a chance for a fifth national title.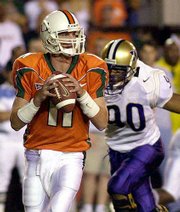 The opponent may be argued about forever thanks to a pair of mind-boggling results that knocked Nebraska, then Oklahoma out of contention.
For now, though, it looks as if No. 2 Florida (9-1) possesses the strongest resume to outpoint a handful of other one-loss teams in the BCS standings and end up in Pasadena.
How does Miami vs. Florida for the national title sound?
"That's what the people want to see," running back Clinton Portis said after Miami's 65-7 win over No. 19 Washington on Saturday night. "They see that Florida puts up a lot of points and they see that we put a lot of points. People want a shootout.
"But we've got to get there. Florida's got to get there. We've got to take care of business."
Miami fans don't need reminding how tough that can be. Last season, the one-loss Hurricanes were left out of the national title game in favor of one-loss Florida State. The Seminoles' lone loss? Miami.
Fans of the HuskerNation, then the SoonerNation got a dose of title turmoil over the weekend.
Needing a win over Colorado to move into Saturday's Big 12 Conference title game, Nebraska (11-1) was clobbered 62-36 last Friday and fell out of the title chase.
Needing a win over lowly Oklahoma State to move into the Big 12 title game against Colorado, Oklahoma (10-2) was stunned 16-13 and lost a chance to repeat as national champions.
Enter Florida. And Tennessee (9-1), Texas (10-1), and Oregon (9-1).
Afterthoughts before the weekend, the Gators, Vols, Longhorns and Ducks are back in the race. And it's so close it might come down to a hundredth of a point in the final Bowl Championship Series computer tabulations to separate who plays for the title and who doesn't. We'll find out on Dec. 9.
"I guess everyone anticipates what could happen," Oklahoma coach Bob Stoops said, "but that's why you play the game give players a chance to make plays and see who can do it."
In Monday's BCS standings, expect Miami to be first, with Florida second. After that, it's too close to call.
The pack is so tightly bunched it's likely that four major conference champions could finish with one loss and not play for the title Maryland (10-1) of the ACC, Illinois (10-1) of the Big Ten, Texas of the Big 12 and Oregon of the Pac-10.
Nonetheless, here's what it will take for the top contenders to reach the Rose Bowl (odds in parentheses):
Miami (1-1). Beat the Hokies in Blacksburg.
Florida (3-1). Beat the Vols at home, then beat Saturday's Auburn-LSU winner in the SEC title game Dec. 8.
Tennessee (6-1). Beat the Gators in The Swamp for the first time since 1971 (0-7 since), then win the SEC title game and hope for a friendly BCS computer bounce.
Texas (10-1). Beat Colorado in the Big 12 title game, then hope for Miami or Florida or both to lose. Then, hope for a friendly BCS computer.
Oregon (15-1). Beat Oregon State on Saturday, then hope two teams from the Miami-Tennessee-Florida pool lose.
Florida-Tennessee usually takes place in September, but the game was rescheduled in the wake of the terrorist attacks in New York and Washington. Now, the winner moves directly to the league title game.
"With Oklahoma just getting beat and Nebraska getting beat, the national championship is up in the air," Vols defensive end Will Overstreet said. "The winner of that game is going to be putting themselves on the road to have a shot at it."
After all that happened, even Miami rookie coach Larry Coker is finding it tough to avoid Rose Bowl chatter.
"We're down to a one-game season, and it's a must win for us," Coker said. "It's hard not to talk of roses, but the situation, as you see around the country, you have to win. We have to beat Virginia Tech, then we can talk roses."
If Miami loses Saturday?
Oh well, back to the drawing board.
Copyright 2018 The Associated Press. All rights reserved. This material may not be published, broadcast, rewritten or redistributed. We strive to uphold our values for every story published.