Kansas City, Mo — When the Kansas City Chiefs were 2-7 and still looking for their first win at home, quarterback Trent Green volunteered to be their scapegoat.
When that victory finally came, Green spread the credit around giving a big share of it to running back Priest Holmes, who ran for 120 yards and caught three passes for another 70 yards in the Chiefs' 19-7 win over the Seattle Seahawks on Sunday.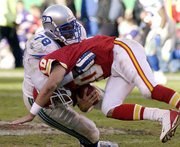 "When the running game and the passing game can work together, that's when you're most effective as an offense," said the Chiefs' quarterback, who was 16-for-26 for 256 yards and didn't throw an interception on Sunday. "We were able to keep them off-balance all game."
Coming into Sunday's game, Green was the one who couldn't seem to find his footing. He was among the AFC's leaders in yards passing, but his NFL-worst 16 interceptions had made him the league's lowest-rated quarterback.
On Sunday with rare exception Green looked in command of his passes.
He nearly gave up an interception in the closing seconds of the first half, but Seattle safety Marcus Robertson was ruled out-of-bounds. For the rest of the day, though, Green didn't even come close to throwing the ball to the Seahawks.
He even won over some fans on a busted pass play on Kansas City's first touchdown drive, when he tripped and fell on his backside but popped back up and scrambled for an 8-yard gain.
"Everybody just wanted to come out and play a good game, and not look at the last games," Green said. "That's something we hadn't been able to do a lot of this year, if at all."
Green had also been without a healthy Derrick Alexander Kansas City's top receiver a year ago for most of this season, due to the wide receiver's struggles first with an ankle injury, then with torn rib cartilage.
On Sunday, though, Alexander caught two passes for 56 yards, with both of his receptions coming on first-half scoring drives.
His 23-yard catch helped set up Todd Peterson's 23-yard field goal on Kansas City's first possession, and Tony Richardson's 1-yard touchdown run early in the second period came three plays after Green's 33-yard pass to Alexander.
"I've been waiting for a game like that all season long," Alexander said. "It was good to get out there and run around a little and make some plays."
Green was glad to have Alexander healthy, too.
"I think he looked better on his running and was able to get some separation on his routes," Green said. "Any time you get a receiver in a 1-on-1 with that separation, you're going to be more productive."
Copyright 2018 The Associated Press. All rights reserved. This material may not be published, broadcast, rewritten or redistributed. We strive to uphold our values for every story published.