Suan Phung, Thailand — Wearing sneakers two sizes too big, Luther Htoo plays a clumsy game of volleyball with young friends who used to fight in his guerrilla band. His waif-like twin, Johnny, leans against the net post to watch the game and grins shyly.
Ten months after they surrendered to Thailand, the 13-year-old mystical brothers who once led the God's Army rebels in neighboring Myanmar are catching up on a lost childhood after three years of jungle warfare.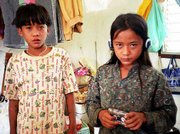 They are confined to a Thai border police base, where they share a small spartan house with their parents and 21 other relatives and followers, fellow ethnic Karens. They spend idle days playing ball, watching television and praying.
But as the devoutly Christian twins start to enjoy a little peace and security, they face a fresh upheaval. The Thai government wants them to immigrate to America.
Thai officials apparently worry they could be a rallying point for anti-Myanmar dissidents and worsen tensions with its neighbor.
"I'm not going," Luther told The Associated Press in an exclusive interview late last week. "It's no fun there. It's not my home."
The twins' mystical reputation dates back to 1997, when government soldiers entered their home village during a sweep of Karen areas in eastern Myanmar. Johnny and Luther reputedly rallied some locals and directed a successful counterattack.
The cheroot-smoking boys became fabled as being invulnerable to bullets and land mines, although former God's Army soldier Toh Lay conceded they actually never fought themselves and directed their troops from behind the lines by consulting the Bible.
A year after the band of 100 to 200 guerrillas broke apart, the twins gave themselves up to Thai authorities in January.
The boys, stunted from years of poor diet, are keen to leave adult concerns behind.
Asked if he wants to be a soldier in the future, Luther is exasperated: "I'm not grown up yet. What do you want me to think? I'm a kid!"
Copyright 2018 The Associated Press. All rights reserved. This material may not be published, broadcast, rewritten or redistributed. We strive to uphold our values for every story published.