DURHAM, N.C. — South Carolina's Kelly Morrone felt good shooting the ball against Duke. She felt even better about the basketball hoops at Cameron Indoor Stadium.
"I love these rims. I just love them," Morrone said after shooting 8-of-9 from 3-point range to lead South Carolina to an 87-81 overtime victory in the Duke Women's Basketball Classic on Sunday.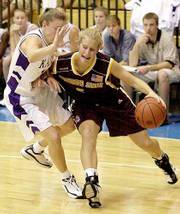 The South Carolina reserve made the second-most 3-pointers in a game by a Southeastern Conference player. Her only 3-point miss came in overtime, when Shaunzinski Gortman scored 11 of her 25 points.
Gortman, shooting 7-for-11 from the floor and 11-for-15 at the line, grabbed 12 rebounds to go with her season-high point total.
No. 9 Duke (3-2) made just 34.5 percent of its shots in the first half, its worst half of the year. After shooting 16-of-29 in the second half to tie the game, the Blue Devils were just 4-of-14 in overtime.
"In overtime, they played like a veteran team, while our youth showed," Duke coach Gail Goestenkors said. "We made so many mental mistakes. We had so many opportunities."
Jovcelyn Penn added 15 points for South Carolina, which became the first team other than the Blue Devils to win the 10-year-old tournament.
"We didn't want to be intimidated by Duke's ranking or their home court coming into this game," South Carolina coach Susan Walvius said. "We play in the Southeastern Conference. We're used to pressure and screaming crowds."
Monique Currie led Duke with 22 points.
No. 13 Baylor 65, Denver 60
Waco, Texas Sheila Lambert scored 19 points, and Danielle Crockrom had 17 points and 11 rebounds.
The Bears (4-0) led 42-22 early in the second half before the Pioneers narrowed the margin to 57-54 on Misty Staton's jumper. With 36 seconds remaining, Denver pulled within three on Nikki Weddle's 3-pointer, but Lambert made two free throws with 14 seconds left.
No. 11 Purdue 80, Southern Mississippi 40
West Lafayette, Ind. Beth Jones scored 22 points, and No. 11 Purdue made 11 3-pointers.
Kelly Komara added 15 for Purdue (3-1), who played the final 13:14 without Shereka Wright.
Purdue's leading scorer had to be helped off the court after twisting her right ankle.
She was injured in a three-player collision, along with teammate Mary Jo Noon, while going for a defensive rebound.
No. 19 Michigan 84, Syracuse 76
Syracuse, N.Y. Alayne Ingram scored 25 points. Stephanie Gandy added 14 points, and LeeAnn Bies 12 points for Michigan (3-1). Shannon Perry led Syracuse (3-1) with 19 points.
No. 21 Arizona State 76, Kansas State 58
St. Thomas, Virgin Islands Amanda Levens scored 29 points. Melody Johnson added 11 points for the Sun Devils (2-2). Arizona State forced the Wildcats (3-1) into committing 27 turnovers, and scored 30 points off the mistakes. Kendra Wecker led Kansas State with 17 points.
No. 23 Wisconsin 61, No. 12 Florida 49
St. Thomas, Virgin Islands Jesse Stomski had 17 points and Emily Ashbaugh added 10. The Badgers (2-1) led 30-19 halftime and held off the young Gators (2-2). Ashbaugh shot 5-of-6. Vanessa Hayden led Florida with 22 points and 13 rebounds. Brandi McClain added nine points and 10 rebounds.
No. 4 Vanderbilt 98, Dartmouth 62
Nashville, Tenn. Chantelle Anderson scored 23 points Sunday as No. 4 Vanderbilt defeated Dartmouth 98-62 in the championship game of the First Tennessee Classic.
Ashley McElhiney made consecutive 3-pointers to help the Commodores (6-1) take a 57-32 halftime lead. She finished with 16 points, going 4-of-4 from 3-point range.
Copyright 2018 The Associated Press. All rights reserved. This material may not be published, broadcast, rewritten or redistributed. We strive to uphold our values for every story published.