Kansas City, Mo — Ten games into a frustrating season, fans in Kansas City finally got to see their Chiefs win in person.
In Arrowhead Stadium, where the Chiefs had an NFL-best 65-15 home record in the '90s, they were 0-4 before Trent Green passed for 256 yards and Priest Holmes had 190 yards in total offense in a 19-7 victory Sunday over Seattle.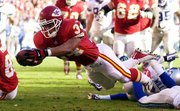 "It is unbelievable that we would go this long without having a home victory," said cornerback Eric Warfield, who helped the Chiefs (3-7) hold Shaun Alexander to just 43 yards rushing. "The fans never gave up on us. It's nice to get them a win."
Seattle (5-5), which had won two in a row, lost in Kansas City for the 10th time in 12 games.
"For us not to have a home win this deep into the season is despicable," said defensive end Eric Hicks, who had one of three sacks of Matt Hasselbeck.
Green, who came in with the most interceptions (16) and lowest quarterback rating (62.6) in the league, was 16-of-26 and did not get picked off. Once, after clumsily tripping over his own feet deep in the backfield, he got up and scrambled nine yards to keep a scoring drive going.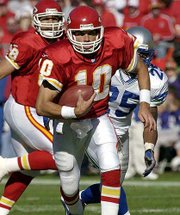 Holmes, the other high-profile newcomer to Dick Vermeil's first Kansas City offense, rushed for 120 yards on 26 carries. He was just the second back over 100 yards against a Seattle defense revamped especially to stop the run.
Holmes also caught three passes for 70 yards, including a 55-yard gainer that led to Mike Cloud's 15-yard run for the final score of the day.
"Now we have to go out there next week and make it two in a row," said Holmes. "That's how you get consistency in this league."
Alexander, fourth in the NFL with 851 yards rushing, scored the Seahawks' only touchdown on a 28-yard pass from Hasselbeck, who was sacked three times and harried most of the day.
"They had 12 people on the line of scrimmage," said Alexander. "They had grandma, a couple of uncles, everybody. And they were excited to be playing up there."
On his career-long 55-yard reception, Holmes took the ball near the line of scrimmage, slipped two tackles and sped down the sideline until Reggie Tongue stopped him at the 34. In the first half, Holmes had a 68-yard gain wiped out by a holding call on tight end Tony Gonzalez.
"Tony was just working hard to try and free me up, and I knew that I could go ahead and break another one later in the game," he said.
Holmes made much of his yardage cutting back against the flow.
"He's a good back and had a lot of cutback moves," said Seattle defensive tackle Chad Eaton.
"We're the type of team that needs to come out and be fired up ready for battle. If we don't start fast we're not going to be as fresh as we should be."
With Green hitting Gonzalez for 26 yards and Derrick Alexander for 23, the Chiefs soared from their 36 to the Seattle 13 in their first three plays. But on third-and-1 from the 4, Antonio Cochran threw Tony Richardson for a 2-yard loss, and the Chiefs settled for Todd Peterson's 24-yard field goal.
Before Richard's 1-yard TD vault, Green hit Derrick Alexander for 33 yards on third-and-6.
"We were able to get some downfield throws off of our play-action passes," said Green. "In turn, that helped with the run game. We were able to mix it up and keep them on their heels."
The Seahawks' frustrated offense finally got in gear late in the half when Alexander took Hasselbeck's pass over the middle and went 28 yards almost untouched, capping a seven-play, 78-yard drive.
The Chiefs burned 7:32 off the clock on a 17-play march that ended on Peterson's 26-yard field goal for a 13-6 lead. Notes: Seattle did not commit a penalty until midway through the fourth quarter, when linebacker Chad Brown was called for an incidental facemask, but finished with four penalties for 35 yards. ... Cloud has two TDs rushing against Seattle at Arrowhead both for 15 yards and both in the fourth quarter. He scored the game-winner last year in Kansas City's 24-17 victory. ... This was the last AFC West meeting here between the Seahawks and Chiefs. Seattle will switch to the NFC West in 2002. ... Kansas City has held its opponents scoreless in the first quarter in six straight games, a club record.
Copyright 2018 The Associated Press. All rights reserved. This material may not be published, broadcast, rewritten or redistributed. We strive to uphold our values for every story published.