Where others see desperate refugees and bombed-out roads and bridges, Islamudin Khorami sees factory jobs blossoming from Afghanistan's postwar ruins.
When peace comes, the New York importer plans to hire up to 500 workers to knit gloves and sweaters in his home city of Mazar-e-Sharif. Khorami, who fled the misery of Afghanistan 18 years ago, says 62 of his family members in Pakistan will return to the city and help run things.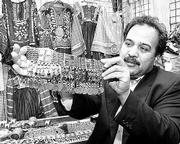 As Afghanistan edges toward what the world hopes will be its first major break from conflict in two decades, a hardy breed of business people see opportunity in one of the poorest nations on earth.
They envision farms in the mountainous north sending raisins, almonds and pistachios to the Middle East; rugged sheep herders shearing wool for sale abroad; weavers making carpets prized across the globe for all-wool designs and bright natural colors.
The prospect of peace is also triggering hope for a multibillion dollar project to build an 890-mile pipeline that would carry natural gas across Afghanistan, linking central Asia to Pakistan. Foreign telecom companies could play a role in plugging the gaping hole in Afghanistan's phone service, an industry analyst says.
Afghanistan, to be sure, won't be a big factor in the global economy any time soon even if the world brings stability to the lawless land and unites enemy factions in a central government, itself a tall order.
The landlocked nation is desperately poor, with people lucky enough to have a job scraping by on an average $4 a month.
Education is limited. Natural resources are scarce. A three-year drought, famine, a ban on opium production, a choking of trade via Pakistan, and massive population displacement have all exacted a massive toll.
Yet economic revival is a key to U.S. hopes for creating lasting stability in Afghanistan and thwarting another terrorist-friendly regime from rising to power.
The international community is planning a multibillion dollar reconstruction effort to stimulate the economy, in part by creating jobs for laborers and managers.
A Washington conference on the subject last week called for rebuilding structures like roads and irrigation networks, expanding farming, and developing services such as education, health care and sanitation. Some projects could be finished in just three months, the U.S. State Department says.
"Reconstruction in Afghanistan is going to open up a whole range of opportunities," said William Byrd, acting country manager for Afghanistan for the World Bank, which is co-hosting another reconstruction conference this week in Pakistan.
Before the former Soviet Union invaded Afghanistan in 1979, exports were limited mostly to raisins, nuts, wool and carpets.
For most Afghans, the economic future will rely on the same low-tech products, but experts say more of them will be exported as trade routes reopen with major partners such as Pakistan.
Copyright 2018 The Associated Press. All rights reserved. This material may not be published, broadcast, rewritten or redistributed. We strive to uphold our values for every story published.