When Kansas University junior Tanner Fortney isn't learning political science in the classroom, he's learning it on the job.
The 20-year-old political science major is the newest and youngest-ever member of the Spring Hill City Council.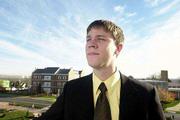 "I thought it was a mixed blessing," Fortney said of his age. "People are interested in you and willing to listen to you, but they think, 'If you're so young, are you really doing this for your own self-interest?'" as opposed to the public good.
Fortney grew up in Spring Hill, a town of 3,000 on the Miami-Johnson county line. He ran for city council in April, advancing past the primary to the general election, where he lost by 75 votes.
The defeat didn't quell his interest in public office. After council member Jim Dalton resigned in September, Mayor Mark Squire appointed Fortney to the position Oct. 25.
Those who work with Fortney said he has rejuvenated Spring Hill's city government.
"I think above all Tanner's going to bring some fresh opinions and fresh outlooks on things," Squire said. "Just his age does that, but being new, he's going to have a new point of view. Tanner's a real qualified individual. I think his motivations for wanting the position are really good."
"He didn't just sit back and say, 'I didn't get elected, so I'm not going to do anything,'" said City Administrator Micki Healy. "He said, 'How else can I get involved?' I think we're proud this is a first for our city to have someone so young on the council."
"It was a breath of fresh air," said Bill Coulter, planning commission chairman, of working with Fortney. "It certainly enlightened our group with a broader range of ideas. I think he certainly didn't have any problem thinking outside the box. He could be a visionary for what it should be in the future."
Young interest
Fortney first sparked an interest in politics during his freshman year in high school when researching policy issues for his debate team.
"I always thought I could make foreign policy as well as these guys can," he said. "But the only way you can make a difference is to be more involved."
A stint on the Student Senate at Johnson County Community College following high school and an internship with Congressman Dennis Moore's 2000 campaign got him thinking about a political career of his own.
"I was reaching the point I didn't want to work for someone else anymore," he said. "I wanted to start getting my ideas out there."
After losing the April election, Fortney turned to the planning commission for his outlet for sharing ideas. Like much of northeast Kansas, Spring Hill has been experiencing booming residential and commercial growth, and the planning commission has been dealing with many of those issues.
"I was really glad once I got on the planning commission that I lost the election," he said. "I was learning a lot about how the city works."
But that didn't stop him from immediately applying for the city council seat which pays $660 a year when it became available.
New ideas
Balancing public service with homework and a 45-minute daily commute to KU will be a challenge, Fortney said.
But his flexible student life has allowed him to attend city meetings to help him understand government issues.
The city faces many "growing pains," Fortney said, including traffic tie-ups and needed upgrades to its water system.
Though he admits he's been quiet during his first two council meetings, Fortney is beginning to make his mark.
The council recently considered its options for a busy intersection near the city's school district. Squire, the mayor, said council members assumed they'd install a traffic signal, but Fortney suggested a roundabout a concept new to Spring Hill might be a better option.
"He's open-minded, and that's something I really like to see from a person who's making those decisions for the community," Squire said.
Future career
Fortney wants to continue in politics, but he's still considering his long-term options. He'll finish his council term it expires in 2003 and decide whether to run again. Campaigns for Johnson County Commission or the state Legislature also are options.
"That's a ways down the road, though," he said.
As far as school goes, he'll graduate in May 2003 and would like to either attend graduate school or law school at KU.
So far, Fortney said, his political science classes haven't helped him much with his public life. But occasionally topics such as budgets and interest groups apply for both the council and in class.
"Once in a while, city council has helped me understand things" in class, he said. "You learn a lot with city council. You're not talking about someone else making a decision; you're actually making a decision."
Copyright 2018 The Lawrence Journal-World. All rights reserved. This material may not be published, broadcast, rewritten or redistributed. We strive to uphold our values for every story published.