Norman, Okla. — Oklahoma's run to the national title last year included a close call against Oklahoma State. This year, the Sooners didn't escape.
Freshman Josh Fields threw a 14-yard touchdown pass to Rashaun Woods with 1:36 remaining to give Oklahoma State a 16-13 victory Saturday, ending the No. 4 Sooners' hopes of repeating as champions.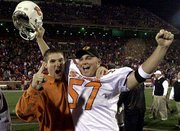 The loss also knocked the Sooners out of the Big 12 race. They would have secured the Big 12 South Division title by winning, but instead Texas will go to the league's title game next week against Colorado.
"I told our players I don't want to hear any of this excuses stuff or us looking toward the Big 12 championship game or anything else, because I felt good about our week of practice. I really did," OU coach Bob Stoops said. "The bottom line is we just got outplayed today."
Oklahoma (10-2, 6-2 Big 12) wound up with zero yards rushing, which was due in part to Nate Hybl being sacked seven times by a defense that had just 18 sacks in the first 10 games.
The loss ended a 19-game home winning streak for Oklahoma, which came into the game rated third in the Bowl Championship Series standings. All that's meaningless now.
"We fought and scrapped this year in a good way," Stoops said. "It finally got to a point where we couldn't do it."
Oklahoma State (4-7, 2-6) entered the game as a 27-point underdog, and with good reason. The defense had given up at least 424 yards in each of the previous six games, including 517 a week ago in a victory over last-place Baylor.
But the Cowboys, who lost 12-7 to Oklahoma a year ago, stuffed the Sooners' running game and intercepted Hybl three times, then the offense managed to put together the crucial touchdown drive in the closing minutes.
"This team has too much character to quit. It's not a part of their makeup," first-year coach Les Miles said. "They kept telling us that they're a good football team, and just needed the right day and opportunity to show it."
Oklahoma never really got going on offense. The one touchdown, an 8-yard run by Quentin Griffin in the second quarter, came on a drive that began at the Oklahoma State 14 after an interception. Otherwise the Sooners got two field goals from Tim Duncan, the second one coming with 8:48 left in the game to make the score 13-6.
The Cowboys made it 13-9 when Luke Phillips kicked his second 52-yard field goal, with 7:31 to play. The OSU defense then held Oklahoma to two straight three-and-outs before the Cowboys started their final drive, which covered 65 yards in six plays.
"We never lost hope on offense," Woods said. "The defense was doing a great job all day. We knew we were going to come through. There was no other way."
Fields, who replaced Aso Pogi on the fourth series of the game, completed a 15-yard pass to Woods to move the Cowboys to midfield. Moments later, on third and 7 from the Oklahoma 45, he threw down the middle to T.D. Bryant, who caught the ball in front of safety Roy Williams for a 31-yard gain to the 14.
Then he hit Woods in the left corner of the end zone for the game-winner.
"That last drive, it was kind of one of those things you dream about, coming down and ending the game with a score," Fields said.
Oklahoma went four-and-out on its next possession, then took over one last time at its 26 with 16 seconds left. On first down, Hybl's pass was intercepted by Marcus Jones to end the game.
"They outplayed us in every position," defensive end Jimmy Wilkerson said. "We practiced well all week and we were confident coming into this game. We just didn't do what we needed to do, and OSU did."
Fields wound up 19-of-38 for 231 yards, one touchdown and one interception. Hybl was 22-of-48 with three interceptions.
Woods had eight catches to become Oklahoma State's single-season leader in receptions. He finished with 80, six more than the record set by Hart Lee Dykes in 1988.
Copyright 2018 The Associated Press. All rights reserved. This material may not be published, broadcast, rewritten or redistributed. We strive to uphold our values for every story published.