New York — Last November, Anna Carrillo spent $200 on a fancy dress to wear to holiday parties. This year, she expects to go more casual and spend half as much. Her new outfit? Leggings and a sparkly sweater, items she plans to buy at a moderate-priced store.
"Usually, I go to a lot of holiday parties. This year, it will be a lot more low-key, and I will be spending more time at home with friends and family," said Carrillo, 29, of Los Angeles. "Under the circumstances, you want to spend time with your loved ones, rather than just going out."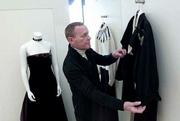 In the aftermath of the Sept. 11 terrorist attacks, consumers like Carrillo are opting for a more subdued holiday season and want their clothes to match the mood. That doesn't bode well for retailers stocked with formal holiday wear such as brightly-colored dresses and beaded ballgowns whether they're pricey or inexpensive.
Stores that rent or sell tuxedos also are bracing for a difficult holiday.
Already, Macy's has reported that women's black pants and simple black dresses are among its bestsellers. Talbot's said consumers are buying more casual looks this year, pairing long skirts with sweaters. And upscale Chicago men's clothier Paul Stuart said its simple black cashmere blazer is replacing the standard tuxedo in customers' holiday wardrobes.
And the color red is just as strong as black, retailers reported.
"It is just more patriotic," Carrillo said.
"Consumers are going to be entertaining more with family, and it will be less about showing off who you are, and more about sharing who you are," said Marian Salzman, worldwide director of strategy and planning for Euro RSCG, a New York-based marketing company.
According to a recent Euro RSCG online survey of 300 consumers nationwide, 28 percent of both women and men plan to celebrate the holiday in a more low-key way. The survey also found that 41 percent of women and 35 percent of men plan to focus more on the religious side of the holidays.
C. Britt Beemer, chairman of America's Research Group, based in Charleston, S.C., agrees. His recent study of 1,000 consumers found that 20 percent of the people who normally go out to parties said they would be spending more time at home.
Carrillo, who plans to do more home entertaining, said she will probably spend more money this year on party accessories like festive cocktail napkins and martini glasses.
Stores making do
The shift in consumer sentiment came too late for retailers to dramatically change their merchandise. But the good news is that merchants were already offering evening separates as one of the holiday looks, a trend that could do even better as consumers stay closer to home.
Some stores like Proffitt's, an upscale department store division of Saks Inc., said it was able to work with suppliers to redirect its orders away from gowns and toward relaxed looks, according to Toni Browning, Proffitt's president.
Bluefly.com, an offprice online apparel seller, said it scrapped its planned promotion of holiday evening wear slated to run as a centerpiece for the site. Instead, it is promoting hot holiday picks including casual wear, Ken Seiff, president and chief executive, said.
Evening wear manufacturers have been the most hurt by an expected slowdown in the business, with retailers cutting back orders of fancy dresses. Lloyd Singer, president of ABS Allen Schwartz, which has an evening wear division, said his company was lucky that major accounts like Macy's and Bloomingdale's didn't reduce or cancel orders for his $200 designs. But Singer acknowledged that there won't be any reorders, which accounts for about 20 percent of ABS's evening wear sales.
Saks Jandel, an upscale women's clothier that caters to Washington's politically elite crowd, said personal designer appearances have helped lure customers back into the stores.
Still, Saks Jandel shoppers are shying away from over-the-top gowns, and buying more relaxed looks like velvet pant suits. And Mark Tomlin, general manager and vice president, believes business will be unchanged from a year ago.
As for the tuxedo business, which traditionally doesn't pick up until early December, merchants are trying new marketing strategies.
Mikka Moon, owner of Tuxedo Junction in Las Vegas, said business has bounced back since Sept. 11, but the holiday season "is still up in the air." To offset an expected slump in holiday party sales, Tuxedo Junction is chasing after the bridal business.
Copyright 2018 The Associated Press. All rights reserved. This material may not be published, broadcast, rewritten or redistributed. We strive to uphold our values for every story published.