In the Rev. Vince Krische's eyes, the proposed expansion of St. Lawrence Catholic Campus Center is a blessing.
"It's very good for us, it's good for the university and it's good for the community," he said.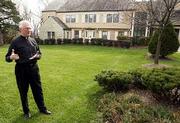 It doesn't look so good to its neighbors in the Crescent/Engel Neighborhood Assn.
"Quite frankly," said Faye Watson, a neighborhood resident, "if it's built, with all that activity, I'll put my house up for sale."
The center, which primarily serves Kansas University students, is nestled against KU at 1631 Crescent Road. St. Lawrence officials want to add 16,000 square feet that would include a lecture hall, library, computer center, offices and choir practice room, requiring the removal of an older home on the southeast corner of 15th Street and Engel Road. The plan also includes construction of a two-level parking garage that would hold 174 cars.
That's what aggravates neighbors many of them attorneys and university professors who say the building would be too large to fit into the neighborhood, and that traffic congestion from KU already threatens neighborhood safety.
"My concern with the proposal to the church is that it adds to the traffic in the neighborhood," said Bill Skepnek, an attorney who lives nearby. "Increasing the use of that facility, increasing the size of the parking lot, is going to increase the traffic."
Brenda Kissam, a KU employee and neighborhood resident, doesn't like that idea. "It just seems like a terrible place to bring more people in," she said.
A matter of blending in
Such fears are unfounded, Krische said.
"We're not bringing more cars into the neighborhood," he said. "We're taking cars that are already here. We have to add more parking."
The center, which was built in the early 1980s, has 1,600 registered members, Krische said. The 2000-01 school year saw 48,000 "participation hours" by students.
Such usage necessitates the expansion, Krische said, but it shouldn't harm the neighborhood.
"I think what we're going to do is a very attractive building," he said.
Watson, who is helping spearhead opposition, disagreed. She said it is "too large" for the neighborhood.
"It is excessive and will no longer blend into our single-family zoned neighborhood," she wrote in a letter to neighborhood residents.
Attempts by the church and neighbors to resolve the issue amicably have failed. Krische said it's now a matter of exercising the center's rights under city ordinances.
"Churches have a right to be in single-family neighborhoods under the code," he said.
Watson said the issue goes beyond that.
"We're just trying to work out something and they're saying, 'It's going to be built. We're a church and you can't stop us,'" she said. "It's not very neighborly."
A neighborly solution?
Such church-neighborhood rifts aren't new to the city. West Lawrence residents complained earlier this year when they said the church's early morning bells had become an annoyance.
Mayor Mike Rundle said churches should be considerate of their residential neighbors, but the occasional tiffs aren't frequent enough to warrant an examination of city codes.
"I don't think it rises to that," he said.
In this battle, sides even disagree about the breadth of opposition. Watson said more than 80 percent of neighborhood residents are opposed, while Krische would say only that "some people" are against the expansion.
The truth should become more apparent in the next couple of weeks as area officials attempt to resolve the matter. The Lawrence-Douglas County Planning Commission is expected to approve a plat Wednesday that combines the existing center with adjoining property to form a single lot for the expansion. Plats are considered at open meetings, but public comment is not allowed.
The Lawrence City Commission may consider the site plan including the project's details in a public hearing Dec. 11.
Krische said the project would ultimately benefit the neighborhood.
"We live in the neighborhood too," he said. "We don't want to harm anything."
Kissam would like to see a good-faith showing of that.
"This is a neighborhood that has to make some compromises, being so close to the university," she said. "The campus center should recognize its need to make some compromises, too."
Copyright 2018 The Lawrence Journal-World. All rights reserved. This material may not be published, broadcast, rewritten or redistributed. We strive to uphold our values for every story published.