Eudora — Judy O'Grady has faced the nightmare of every mother.
On Aug. 3, her youngest daughter, Brooke, died of cancer.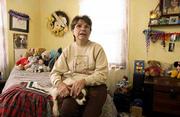 But 15-year-old Brooke had an agenda in the months leading up to her death.
Little by little, day by day, she taught her mother how to live.
"Brooke didn't want anyone crying, or fussing and feeling sorry for themselves," O'Grady said. "She was a take-control person and wanted her mom to do that, and through her strength I was able to see it through."
Brooke's room remains intact in the O'Grady home, as if she could walk through the doorway at any minute and plop herself down in the middle of the stuffed animals covering her bed. On the wall is a poster showing the constellations. A small red circle indicates a star called Alexandrina Angelicius, registered in Brooke's name last Christmas.
"She planned her own funeral," O'Grady said. "She thought we should all be ready."
Brooke picked out her casket and chose the songs for her service. She went shopping for a dress to be buried in: a blue velvet prom dress, which she complemented with jewelry given to her by her siblings. She asked her mother to gather photographs of her life a visit to Disney World, days in treatment, poses with friends, working for Relay for Life so they could be displayed at the funeral.
"In her comfort of doing that was my comfort. There was so much to learn, do and feel all at the same time," O'Grady said. "It was easier for us to grieve as a family when we didn't have all those things to do. It was all done. It was her last gift to us."
A long journey
Brooke knew the five years leading up to her death had been hard on her family, particularly her single mother and her 19-year-old brother Trevor, who still lives in the home.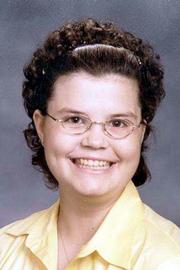 The cancer first made itself known when Brooke was 10. A lump appeared on her neck, and within a few days it had doubled in size. A biopsy was scheduled, and on Nov. 25, 1996, she was diagnosed with Hodgkin's disease.
"She went into Children's Mercy Hospital (in Kansas City, Mo.) on Dec. 2 for treatment and they found tumors throughout her chest," O'Grady said. "One was the size of a grapefruit."
After chemotherapy and radiation, Brooke's cancer seemed to be in remission. Thirteen months later, the tumors were back.
"She had a stem cell bone marrow transplant and spent three months in the hospital but her body rejected her own stem cells," her mother said.
On April 13, 2000, Brooke and her mother were told that she had less than a 5 percent chance to survive.
Instead of feeling sorry for herself or falling into a depression, Brooke took the doctor's prognosis as permission to do the most with what time she had left.
She went to Disney World, continued to raise money for cancer research through participation in the Relay for Life and took an airplane ride over her hometown. She was in the delivery room when her nephew was born, and she went to college classes for a day with one of her friends.
And she became very spiritual.
"We did a lot of serious talking at night when she was in bed and the lights were off," O'Grady said. "We'd talk about the passages in the Bible. I did a lot of reading to her, and then she'd ask me what it meant to me. She was facing death with no apprehension. Her only fear was the moment of death."
Unfortunately, Brooke's final hours were not pain-free.
"Her last six hours were horrible. The doctors said few kids go through what she did. She was on 900 milligrams of morphine an hour," her mother said. "But now, I can almost see the beauty of her death. She was holding my hands and a statue of Mary. It was beautiful, but it's so sad because she can't come back."
O'Grady wiped tears from her eyes.
"I didn't have much choice. She expected us to be strong and to carry on. You do what you have to do," she said, describing how she inserted IVs into her daughter's body and watched the oxygen machine to make sure all was going well. "It becomes your way of life, and now I'm adjusting to not having to do that. The least I could do was to do the most for her."
Reaching out to others
Here are some resources with information about childhood illnesses and treatment and coping with a child's death.
Web sites
The National Organization for Rare Disorders Inc., P.O. Box 8923, New Fairfield, Conn. 06812-8923; (203) 746-6518; website
Project Joy and Hope for Texas; (713) 944-6JOY or toll free at (866) JOYHOPE; website
Department of Symptom Control and Palliative Care, M.D. Anderson Cancer Center, 1515 Holcombe, Box 08, Houston, Texas 77030; (713) 792-6085; website
End-of-Life Care for Children, Texas Children's Cancer Center, Texas Children's Hospital, Houston, Texas; website
Children's Hospice International, 2202 Mt. Vernon Ave, Suite 3C, Alexandria, Va. 22301; (800) 2-4-CHILD or (703) 684-0330; website
Pediatric Pain-Science Helping Children, IWK Grace Health Center, Dalhousie University, Halifax, Nova Scotia, Canada; website
Children's International Project on Palliative/Hospice Services (ChIPPS), National Hospice and Palliative Care Organization, 1700 Diagonal Road, Suite 300, Alexandria, Va. 22314; website
The Candlelighters Childhood Cancer Foundation, 3910 Warner Street, Kensington, Md. 20895; (800) 366-2223; website
The Compassionate Friends Inc., P.O. Box 3696, Oak Brook, Ill. 60522-3696; (877) 969-0010; website
Growth House, Inc.; (415) 255-9045: Excellent source for publications and links regarding end-of-life care; websiteBooks
"Shadows in the Sun," by Betty Davies (Brunnder/Mazel, 1999; $29.95)
"Living with Grief: Children, Adolescents and Loss," edited by Kenneth Doka (Hospice Foundation of America, 2000)
"The Grieving Child: A Parent's Guide," by Helen Fitzgerald (Simon and Schuster, 1992; $12)
"Some Folks Say: Stories of Life, Death and Beyond," by Jane Hughes Gignoux (FoulkeTale Publishing, 1998; $29.95)
"Care of the Dying Child," edited by Anne Goldman (Oxford University Press, 1998; $29.95)
"Hospice Care for Children," edited by Sarah Zarbock Goltzer and Anne Armstrong-Dailey (Oxford University Press, 1993; $45)
"Talking about Death: A Dialogue Between Parent and Child," by Earl Grollman (Beacon Press, 1990; $15.50)
"Helping Children Grieve: When Someone They Love Dies," by Theresa Huntley (Augsburg, 1991; $8.99)
"Helping Children Cope with the Loss of a Loved One: A Guide for Grownups," by William Kroen (Free Spirit Publishing, 1996; $14.95)
"Remembering with Love: Messages of Hope for the First Year of Grieving and Beyond," by Elizabeth Levand and Sherokee Ilse (Fairview Press, 1995; $11.95)
"You Are Special," by Max Lucado (Crossway Books, 1997; $15)
"Cat Heaven," by Cynthia Rylant (Blue Sky Press, 1997; $15)
"God's Paintbrush," by Sandy Eisenberg Sasso and Annette Compton (Jewish Lights Publishing, 1992; $16.95)
"How Do We Tell the Children? A Step-by-Step Guide for Helping Children Two to Teen Cope when Someone Dies," by Dan Schaefer and Christine Lyons (Newmarket Press, 1993; $18.95)
"The Andrew Poems," by Shelly Wagner (Texas Tech University Press, 1994; $16.50)
"Old Turtle," by Douglas Wood and Margaret Pike (Centering Corp, 1992; $5.95)
"Cancer Pain Relief and Palliative Care in Children," by World Health Organization (Geneva, 1998; $16.20)
O'Grady is doing everything she can to fulfill Brooke's last wishes and to keep her memory alive. The energy she used to spend caring for her daughter is being rechanneled to benefit others.
The Brooke O'Grady Foundation has been established to raise money for childhood cancer research. A golf tournament is being planned for April, and O'Grady is making remembrance bracelets that will be for sale in a few months in hospital oncology units across the country.
"I don't want to stay in a trap of having a bad day or having a bad month," O'Grady said. "I want to move on with my grieving. It's not about sitting around the being sorrowful all the time. It's means that I'm doing what (Brooke) asked me to do."
O'Grady said she hopes that other parents can learn from her story.
"You can never be ready (for a child's death), you can never understand it, you can never accept it, but you may have to deal with it and have to live with it," she said. " If it does happen tomorrow, you have to be ready."
Next week: Officials who deal with violent deaths.
Copyright 2018 The Lawrence Journal-World. All rights reserved. This material may not be published, broadcast, rewritten or redistributed. We strive to uphold our values for every story published.