Two-year-old John Johanning thought he was the first kid in Lawrence to see Santa Claus.
That was Thursday, when his relatives came over for Thanksgiving.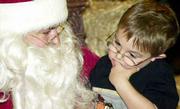 "He thought one of his uncles was Santa because he's got gray hair and a beard and blue eyes," said his mother, Roxy Johanning.
She took John downtown Friday night to see the real Saint Nick "rescued" from the roof of Weaver's Department Store, 901 Mass. The annual Downtown Lawrence Inc. kickoff to the holiday season drew hundreds of eager children and their parents.
They flocked to Ninth and Massachusetts streets. Youngsters perched on adults' shoulders. White Christmas lights strung on downtown trees reflected in the eyes of mesmerized children as they gazed up at the darkening sky, anticipating Santa's arrival.
There were several false alarms. A few times when planes flew overhead, children pointed to the sky and shrieked, "That's him! That's him!"
Noticing dark clouds rolling past Weaver's rooftop, Lawrence resident Joel Hood asked his 6-year-old son, Jacob, if he thought Santa would have trouble landing.
"Oh no, don't worry," Jacob said. "Probably Rudolph is going to help them."
It wasn't clear whether a red-nosed reindeer guided Santa, but onlookers didn't seem to care how he got there once they spied his telltale red hat and glowing white beard.
Children and adults alike cheered, clapped and waved as members of Lawrence-Douglas County Fire & Medical used a ladder truck to help Santa off the roof.
Amid the excitement, Heartland Community Church members passed out free hot apple cider, and the Central Junior High Excalibur choir sang carols.
Sande Kuepper, Gulfport, Ill., and her 5-year-old granddaughter, Emily Starman, Lawrence, waited across the street from Weaver's right next to the seat reserved for Santa. Emily wanted to be one of the first to tell Santa what she wanted for Christmas.
"Last year, we waited over an hour," Kuepper said. "We think Santa Claus will get to us a little sooner this year."
For those who missed Santa on Friday, the Jolly Old Elf will be at Weaver's from noon to 4 p.m. Saturdays and 1 p.m. to 4 p.m. Sundays from Dec. 1-23.
Copyright 2018 The Lawrence Journal-World. All rights reserved. This material may not be published, broadcast, rewritten or redistributed. We strive to uphold our values for every story published.