Nothing signifies the holiday season quite like Christmas carols, sleigh bells and a red kettle.
All were in evidence Friday outside Dillons, 3000 W. Sixth St., as Jerry Collie rang his bells to raise money for the Salvation Army's annual "Red Kettle" holiday season fund-raiser, a small stereo nearby chirping out seasonal songs.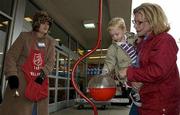 "Sometimes we get a little crowd here, people who want to dance or sing along," Collie said.
Collie, a market manager at the store, was volunteering two hours of his own time to work the shift.
"It's a good stress-reliever," he said. "It's a good way to get back in the holiday spirit."
Salvation Army officials formally opened their fund-raising season Friday with a ceremony at Firstar Bank, Ninth and Massachusetts streets. Bell-ringers are stationed at 18 sites throughout Lawrence.
The church's goal is to raise $150,000 about one-third of its annual budget by Christmas. The money supports an array of community-service activities, officials said.
"Some people don't realize the Salvation Army is more than a shelter for the homeless," Army Capt. Kirk Schuetz told the crowd at Firstar.
The Salvation Army in Lawrence also supports transitional housing for families trying to get back on their feet, as well as clothing programs, feeding programs and a youth basketball league.
The Sept. 11 attacks on America saw many charities lose ground in funding that went to help victims instead. Salvation Army officials said they're confident this year's goal will be met.
"We've set a pretty aggressive goal this year, as we do every year, and we've always met it," said Kelvin Heck, chair of the Salvation Army's advisory board.
"If it's a good cause, the people of Douglas County always support the cause."
It helps, Collie said, to inject a little fun and music into the process.
"I think people give more," he said, "if there's somebody out here who looks like they're enjoying themselves."
Copyright 2018 The Lawrence Journal-World. All rights reserved. This material may not be published, broadcast, rewritten or redistributed. We strive to uphold our values for every story published.