Shoppers were sleepy-eyed but cheerful as they waited more than an hour to get at the best deals.
Before sunrise Friday, droves of shoppers hit chain stores on South Iowa Street in Lawrence, kicking off what historically has been the biggest shopping day of the year.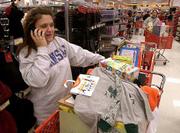 Bargains on must-have items lured many consumers out early to battle long lines and crowded stores.
Karen Kooser, Lawrence, arrived about 4:45 a.m. at Wal-Mart, 3300 Iowa. It didn't take long before more than 200 people created a line stretching to the store's garden center. The doors opened at 6 a.m.
"It's hard to decide where you're going to go first when there's so many deals," Kooser said.
Retailers fear that the Sept. 11 terrorist attacks and the nation's slumping economy have left Americans nervous about spending. The holiday season can account for as much as 50 percent of some retailers' sale each year. Many stores opened their doors before dawn and tried to lure shoppers with early-bird specials.
Wal-Mart enticed shoppers with advertised electronics specials such as videocasette recorders for $48, DVDs for $75 and 19-inch televisions for $84.
Preparation a must
Two women behind Kooser, Tammy Brouhard and Venieta Butler, both of Perry, said they planned to take advantage of the deep discounts on electronics.
"I brought the whole ad with me," Brouhard said. "I know I need to get this $98 CD stereo with a digital tuner."
While Kooser shopped at Wal-Mart, her husband, Robert, stood in line across the street at SuperTarget, 3201 Iowa, which opened at 7 a.m.
"I gave a numbered sheet to my husband with a list of things to get at Target," she said.
Other shoppers were just as prepared. For example, Glenda Heskett of Tonganoxie was crossing off items for her grandchildren in a notebook about 5:30 a.m. while shopping at Kmart, 3106 Iowa. Her list was color-coded, noting the different stores she needed to stop at Friday.
"I don't have any really big things I'm looking for," she said. "I'm on a budget, so I'm looking for bargains."
Like many people across the country fearful of the nation's lagging economy and conflict abroad, Heskett decided to cut back on her Christmas buying.
"I hate to spend a lot of money. I don't think, with everything going on in the world, gifts are as important," she said.
Big buying plans
But downtown shoppers Mary Jo King, Lawrence, and her friends, George and Trudy Bowen of McLouth, said they were planning to spend about the same amount they usually do.
"I usually start shopping in January because I have four children and seven grandchildren," King said. "I'm almost done."
By 10 a.m., the trio had survived the madness on Iowa Street, where they said some shoppers had snatched deeply-discounted CD stereos from competing shoppers' hands at Target.
"They were putting five to six boxes to a cart," George Bowen said. "They were loading up."
The trio said the atmosphere in downtown Lawrence shops was calmer.
For the past four years, the three friends have met before dawn in Lawrence to shop for holiday bargains.
"We've already hit Kohl's, Target, Sears, JC Penney's and now we're down here," George Bowen said. "We just make a day of it."
"Then, we finish it with a good lunch together," his wife said.
'Tis the season
Virgil Harrod said he looked forward to the first day after Thanksgiving and it was not because he could chase great sales on holiday gift items.
He's a Christmas tree salesman who annually toils on behalf of Lawrence's Luncheon Optimist Club in the parking lot at Checker's Foods, 23rd and Louisiana streets. There were about 700 trees in stock when Harrod opened the stand Friday morning.
"I sold 36 trees the day after Thanksgiving last year," he said. "I expect it will be busy."
Indeed, his lot and the aisles of Lawrence's downtown shops began filling about 10 a.m. as businesses opened their doors.
"It's busier than I expected us to be," said Pat Kehde of The Raven Bookstore, 6 E. Seventh.
She speculated the skies were overcast just enough to deter people from heading to the Kansas City area to shop but not sufficiently wicked to keep them away from downtown.
"Then again, it's retail," she said. "It's anybody's guess."
Of course, some people had no intention of jumping into Christmas shopping mode.
"It's my least favorite time of year," said Kari Jackson of Lawrence. "I don't feel like it (holiday shopping) has anything to do with what it was meant to be."
People from this city and far-off locales who put out some effort appeared to have good luck finding gifts for cherished friends and relatives.
"It been unexpectedly good. I found two major gifts," said Lawrence resident Pamela Nuzum, who scoured Massachusetts Street shops with her niece, Jeanette Nuzum of San Francisco.
Downtown abuzz
Mark Cordes, who lives in Kansas City, Mo., said he avoided the large retail stores to take advantage of downtown Lawrence's eclectic offerings.
"I like to catch the local talent and stuff off the beaten path," he said.
Even if some folks didn't find the perfect gift, there was merit in mingling with thousands of holiday shoppers strolling the streets.
"Everybody's down here," said Nancy Haggart of Lawrence.
"It's a happening," added friend Barbara Moorman of Great Falls, Va.
Copyright 2018 The Lawrence Journal-World. All rights reserved. This material may not be published, broadcast, rewritten or redistributed. We strive to uphold our values for every story published.