Lawrence retailers already have received a pre-holiday gift an abundance of potential employees.
The signs of a slowing economy are starting to show up in the number of applications Lawrence retailers are receiving for temporary help for the holidays.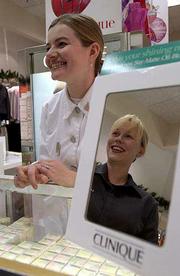 At the Lawrence K-Mart, the number of applications has increased from about 25 a month during the typical pre-holiday season to about 70 a month this year.
"We have plenty of applicants this year," said John Rose, store manager of K-Mart, which increases staff by about 20 percent during the holidays. "It has made it easier to hire the people we need."
Other retailers are reporting similar increases, and say the current economic times are probably the reason.
"It is a combination of people wanting to earn extra income and just a tighter job market in general," said Joe Flannery, president of Weaver's Department Store.
What may be good news for retailers may be bad news for those seeking work now. A pair of temporary staffing agencies said the Lawrence job market, not just in retail but overall, is close to the point that job seekers are outnumbering available jobs.
"There are fewer firms hiring than there used to be," said Shirley Martin-Smith of Adecco Employment Services. "But that has been true since last year. It hasn't really been a robust year for jobs."
Lee Girard, branch manager for the employment agency Spherion, said that earlier this month he noticed a definite increase in the number of people coming to the Lawrence office seeking part-time jobs.
"People are looking for a little extra money during these times," Girard said. "We've had several looking for an extra part-time job. We've even had a few looking for an extra full-time job.
"But the question is whether there are a lot of people looking to add employees?"
Retailers, for the most part, said they were not cutting back on the number of holiday workers they hire this season.
"We're expecting business to be as good as last year, so we have to be prepared," Rose said.
A survey of employer's intentions for hiring after the holidays, released earlier this week by Manpower Inc., indicated hiring would be down in January, February and March.
Copyright 2018 The Lawrence Journal-World. All rights reserved. This material may not be published, broadcast, rewritten or redistributed. We strive to uphold our values for every story published.