Overbrook — Few people have their own pet bison.
But Jared Gibbs does.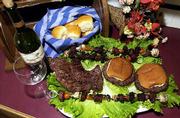 "We've got this one out here named Peanut that we bottle-fed, and it kind of became attached to us. She's almost 3 years old, and we're going to keep her," says Gibbs, 21.
His father, Don Gibbs, isn't too keen on letting his son turn any more of the huge, woolly animals in the family's bison herd into pets, though.
They're intended to go to market, where they'll feed area consumers who have developed a taste for the low-fat, healthful red meat that comes from bison commonly called buffalo.
The Gibbs family Don, his wife, Terri, and Jared operate the Lone Star Lake Bison Ranch and Meat Co. on 50 acres about seven miles west of Baldwin Junction, off U.S. Highway 56.
Don, 48, is a full-time contract glazier working in the Kansas City area. His role in this sideline business is to maintain the ranch's fences and to keep the buffalo herd fed and watered.
Jared helps with the ranch's day-to-day operations and the sale of meat. He has started working on a Web site for the ranch and will focus on distribution of the meat as the business expands.
Terri, 46, works in Lawrence for the Golf Course Superintendents Association of America. She's designing a marketing plan for the ranch, intending to get the word out about the family's bison meat to chefs of country clubs in the region.
The couple have two daughters who are not involved in the business. Micah, 20, is a Kansas University sophomore. Tara, 27, is married to a U.S. Army helicopter pilot and lives in Alabama.
The family, which moved to the ranch from Eudora about eight years ago, has been slowly building its herd of bison. There are 18 animals in the herd now 12 cows, two bulls and four calves.
A mature bison bull weighs about 2,000 pounds, while a mature bison cow typically weighs about 1,100 pounds.
The Gibbses got interested in bison from talking to longtime friends Steve and Dianne Martin, who own the Appanoose Bison Ranch on 190 acres in southwest Douglas County, where they have 65 head of bison.
The Martins planted the idea in Don's mind and eventually led the Gibbses to buy a ranch of their own.
"It looked like there was some money to be made in the selling of this product," Don says.
A lean meat
The Gibbs family, which belongs to the Kansas Buffalo Assn., started selling frozen bison meat in August at the Lawrence Farmers Market.
Customer response at the market, which closed Nov. 10 for the season, was good.
"People were buying it and coming back to tell us how great it tastes," Don says. "A lot of KU students were coming down to buy our burger."
Their bison burger meat sells for $4.50 per pound. The Gibbses sell their frozen bison meat which is available by calling the ranch in a variety of cuts.
Customers can purchase filets, Kansas City strips, ribeye, sirloin, burger, roasts and brisket. Per pound, bison filets cost $16, K.C. strips are $14 and ribeyes are $12.
The ranch's bison are processed at Santa Fe Meats in Overbrook.
"I try to raise them as naturally as possible," Don says. "I use as few chemicals on their pasture as I can, and no growth hormones or antibiotics. They're essentially grass-fed."
Cooking tips
Because bison meat is very lean and lacks fat marbling, it's important not to overcook it. The best way to prepare it is to use low heat (325 degrees) and longer cooking times, according to the USDA's Food Safety and Inspection Service.
Braising or other moist cooking methods are recommended for bison roasts and steaks. For thin-sliced bison, quick-cooking methods such as broiling and pan-frying are better.
Less tender cuts should be braised (roasted or simmered with a small amount of liquid in a tightly covered pan) or stewed.
The Gibbses like bison steaks, kebabs and burgers the best.
"If you put steaks on the grill, you should sear them on both sides right away to seal in the juices," Don says. "I think the meat's best served pink (in the middle) the rarer it is, the more tender it will be."
Word of mouth on the ranch's bison is good, and the family hopes its business will continue to grow.
"It's nice having a product that people like and want and will come to you to buy," he says.
Copyright 2018 The Lawrence Journal-World. All rights reserved. This material may not be published, broadcast, rewritten or redistributed. We strive to uphold our values for every story published.