Grant School student Leanne Millet said Tuesday the "F" in cook Rosie Fowler's name stands for "fabulous" meals.
Likewise, Millet proclaimed "o" in Fowler's name is for organized, "w" is for wonderful sense of humor, "l" is for lovable laugh, "e" is for elementary school's best cook, and "r" is for respectful to all people.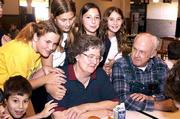 Millet joined students, teachers and parents at Grant for a celebration of Fowler's 70th birthday and recognition of her 22nd year of cooking at their school.
"What a surprise," Fowler said. "I think this is so nice."
With students using song and poetry to celebrate Fowler's achievements of longevity and loyalty, Grant parents volunteered to take care of the lunch chores. Old school colleagues and Fowler's husband, Allen, dropped by for the fiesta. There was a huge birthday cake, balloons and ribbons.
It will be Fowler's last opportunity to slice her own birthday cake at Grant. She will retire next year to her home in Linwood, a move coinciding with the Lawrence school board's plan to close the elementary school.
"It's a good time," she said.
Allen Fowler added: "Her and Grant together."
Grant teacher Jan Dicker said Fowler had left a deep impression on hundreds of school children.
"She knows what they like," Dicker said. "She pampers them. She has a great heart."
Fowler has served food for more than half of Grant's existence starting when Jimmy Carter was president.
In all, she's been a district cook for 26 years. She started at Cordley School, moved to Woodlawn School and then to Grant.
"I love kids," Fowler said. "I've made a lot of friends over the years."
Copyright 2018 The Lawrence Journal-World. All rights reserved. This material may not be published, broadcast, rewritten or redistributed. We strive to uphold our values for every story published.