Kansas University's Theta Chi fraternity had eight members in 1998. It has 85 this year.
It's the exception, not the rule.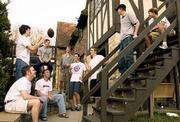 Overall, membership at KU's fraternities and sororities has continued to slip since the greek heyday that climaxed in the late 1980s and early 1990s. The decrease follows national trends that saw some groups lose as much as 30 percent of their membership.
Though KU doesn't keep official numbers for members in greek organizations, Angie Carr, coordinator of greek programs, said about 5,000 students were in fraternities and sororities at the height of their popularity. That number was 3,403 last fall.
KU does keep figures for how many students live in greek housing. That number has dropped from 2,745 in 1990 to 1,898 in fall 2000.
The decrease has been worse for fraternities than sororities. During the 1990s, the number of men living in fraternities dropped 37 percent. The number of women in sororities dropped 21 percent.
Five fraternities along Stewart Avenue, south of campus, have sold their houses in the past three years. The fraternities couldn't afford to install sprinkler systems mandated by the city. Two fraternities now are renting a house; the others don't have a house for members.
Sigma Alpha Epsilon circulated a letter to alumni this summer saying it was $140,000 behind on mortgage payments on its remodeled house on West Campus Road.
Another fraternity, Delta Tau Delta, disbanded last year.
Fraternity members say that years of publicity for being party houses full of alcohol and hazing have taken their toll.
"I think sometimes it comes from perception in the media," said Ryan Gerstner, president of Theta Chi fraternity. "Once they meet us and find out what we're about, that's the end of the problem. It's getting over the initial hurdle."
Gerstner's organization is rare among fraternities its membership has boomed in recent years.
In 1998, the fraternity decided to sell its house at 1101 Mo. The older home wasn't as nice as others on campus.
"It got to the point we couldn't recruit," Gerstner said.
Membership dwindled to eight members.
The fraternity began leasing a house at 1003 Emery Road, and this semester it has 85 members. Being closer to other greek organizations helps recruitment, Gerstner said.
Cory Lagerstrom, president of the Phi Delta Theta corporation board, which oversees the business operations of the fraternity, agreed that the "stigma" of greek life has hurt fraternities.
But other factors also hurt the groups, he said. More seniors are opting to move out before they graduate, enticed by the noncommunal life of apartments.
But Lagerstrom thinks fraternities may be turning the corner. Phi Delta Theta has about 85 of its 90 spots full with a 35-member pledge class this fall about seven men more than the past few years. And, he said, more men applied to join but were turned away.
"We could fill the class tomorrow, but we found the smaller the pledge class, the more of a bond that a student's more likely to make," he said.
While many fraternities struggle for members, a new sorority Zeta Tau Alpha will join KU's system next year. Missi Schoen, vice president for recruitment for the Panhellenic Assn., which includes most of KU's sororities, said average pledge classes of 50 are filling up the sorority houses.
Sue Buckley, an adviser for the Chi Omega sorority, said she thought the stricter rush process was a benefit for sororities. Members must be referred for membership and go through a structured process at the beginning of the school year. Fraternities, on the other hand, handle rush more loosely during the summer.
"It's not just because you look good in your clothes and talk nice, you get in," Buckley said of sorority rush. "It's like when you interview for a job."
Sigma Alpha Epsilon fraternity, which was struggling to pay bills this summer, is now in the clear thanks to alumni contributions and a strong pledge class, said its president, Eric Slivinski.
The house, remodeled in 1998, had 35 new pledges this fall, the highest number since the early 1990s.
He said incoming freshmen often don't realize fraternities are more about service and friendship than parties.
"A high school senior gets out of a fraternity something different than what he thinks going into it," Slivinski said. "It's about getting involved in the fraternity and meeting best friends."
Copyright 2018 The Lawrence Journal-World. All rights reserved. This material may not be published, broadcast, rewritten or redistributed. We strive to uphold our values for every story published.