Bangi, Afghanistan — The Taliban offered on Sunday to surrender their last northern stronghold if Arab and other foreign fighters loyal to Osama bin Laden in the city are spared, an anti-Taliban commander said. The northern alliance, meanwhile, agreed to a conference on neutral ground to plan a multiethnic government.
The offer to surrender Kunduz came after U.S. bombers unleashed their heaviest strikes so far on the city. Warplanes were also reported in action near the Taliban southern stronghold of Kandahar and areas of eastern Afghanistan where bin Laden is believed to maintain camps and hide-outs.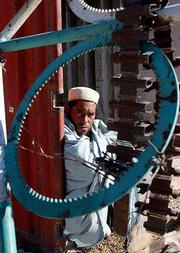 In Washington, National Security Adviser Condoleezza Rice said the advances on the ground were reducing bin Laden's room to maneuver. "We think that the more that we are stripping away his protection ... that we're beginning to narrow his possibilities for hiding," Rice told CNN's "Late Edition."
Secretary of State Colin Powell said the northern alliance had agreed to take part in U.N.-brokered talks with other Afghan factions about forming a new power-sharing government in Afghanistan.
The head of the alliance, Burhanuddin Rabbani, said Saturday his group supported such a conference but wanted it to take place in the capital, Kabul. The United Nations favors a neutral site.
Following talks in Tashkent, Uzbekistan with U.S. envoy James Dobbins, the alliance's foreign minister, Abdullah, said the meeting "will be held outside Afghanistan," possibly as early as this week.
That would represent a major concession by the alliance, which clearly wanted the conference to take place in a city under its control. Abdullah said some locations proposed by the United Nations "were acceptable to us," citing Germany, Switzerland and Austria.
A Spanish magistrate jails eight men accused of involvement in the Sept. 11 attacks and charges them with belonging to Osama bin Laden's al-Qaida network.Hardline cleric Maulana Sufi Mohammed, who led more than 10,000 armed tribesmen to Afghanistan last month, is arrested with 30 companions as they returned home to Pakistan.The son of Omar Abdel-Rahman an Egyptian Muslim cleric jailed in the United States for conspiring to blow up New York City landmarks is reportedly captured or killed in Afghanistan.Secretary of State Colin Powell and Deputy Defense Secretary Paul Wolfowitz say they have no reason to believe bin Laden has escaped Afghanistan.
"It is my understanding based on the discussions we had today that the issues of venue and timing of such a meeting are agreed," Dobbins said.
Heavy pressure
The United States had been putting heavy pressure on the northern alliance to drop Kabul as a venue for the talks. Powell expressed hopes the meeting organized by the top U.N. envoy for Afghanistan, Lakhdar Brahimi, would take place in days.
"We've got to get this moving," Powell said on "Fox News Sunday."
He told ABC's "This Week" that the United States believes any new power structure in Afghanistan should include women. However, he said, "we're not going to dictate what they do with their government."
Rice echoed those comments.
"We have to remember that Afghanistan is a place where women were educated, where girls were educated, where lots of women were doctors and teachers. This is not a new concept," she said on NBC's "Meet the Press." "But certainly, we cannot choose the members of the next Afghan government."
The United States launched its military campaign against Afghanistan on Oct. 7 after the Taliban refused to hand over bin Laden, the top suspect in the Sept. 11 terror attacks in the United States.
The Afghan Islamic Press, a private Pakistan-based news agency, reported more than 70 people were killed by U.S. bombing around Kandahar and in eastern Nangarhar province. The claim could not be independently verified.
B-52s struck Taliban positions outside Kunduz, unleashing their biggest bombs yet in the area.
Flames shot into the air after bombs hit, and cracking booms carried across the valley floor toward the northern alliance's own foxholes in opposing ridges. Avalanches of soil cascaded down hillsides. Taliban soldiers could be seen running out on the distant ridges, trying to find cover.
Refugees fleeing Kunduz say a hard core of Taliban soldiers and allied Arab, Chechen and Pakistani fighters are in control after fleeing other districts across the north in the past week.
Taliban terror
The refugees told of terror at the hands of Taliban troops and foreign fighters. The foreigners, fearing they will be killed if the city falls, were reportedly blocking Afghan Taliban trying to surrender.
One refugee, Dar Zardad, said Taliban killed eight boys in their late teens after some of the youths laughed at the militia fighters. Zardad and other refugees in Bangi, a village about 30 miles to the east, recounted how fighters shot and killed a doctor when he delayed responding to their summons to come treat wounded Taliban troops.
Witnesses said at least 100 Taliban soldiers were shot, apparently by gunmen from their own side, as they approached northern alliance lines in an attempt to surrender.
Still, Taliban leaders in the city were negotiating with alliance commanders by radio.
Conditional surrender
The Taliban said they would surrender if the alliance guaranteed that non-Afghans fighting alongside the Islamic militia would not be killed and if the surrender were witnessed by U.N. representatives, an alliance commander, Nahidullah, said in the city of Taloqan, about 40 miles to the east.
There was no immediate word whether the opposition alliance has accepted the offer. Northern alliance forces had moved a multiple-rocket launcher and two tanks up to the road that is the eastern approach to Kunduz, but there was no sign an attack was imminent.
The Taliban were barring people from leaving Kunduz, telling them, "If you leave, the USA will bomb all the city," said Zardad, the refugee. He said he made it out of the city only after Taliban beat him with their rifle butts.
Other refugees said Kunduz residents were hiding indoors and closing their shops for fear of summary execution by the Taliban. Foreign fighters, using local translators, were broadcasting loudspeaker announcements saying they would be taking the offensive against northern alliance troops laying siege to the city.
Mass grave
In the western city of Herat, northern alliance officials showed journalists a mass grave near Shindand military airport that they said contained the bodies of 27 anti-Taliban fighters massacred by the Taliban. They said the Taliban killed the men many of whose bodies had bound hands sometime before the Taliban fled the city last week.
In Kandahar, meanwhile, the Taliban appeared still in control despite a reported deal last week for their supreme leader, Mullah Mohammed Omar, to leave the city. However, the situation there was said to be tense, and sources in the city, contacted by telephone from Pakistan, said the Taliban had extended the nighttime curfew to keep people off the streets.
The sources spoke on condition they not be named.
Afghan sources in Pakistan, also speaking on condition of anonymity, said a delegation of tribal leaders was in Kandahar trying to negotiate a transfer of power. The report could not be independently confirmed.
In Quetta, Pakistan, Ahmed Karzai, younger brother of anti-Taliban leader Hamid Karzai, said opposition forces clashed with Taliban fighters late Saturday in Uruzgan province north of Kandahar but had no further details.
Local leaders not connected to the northern alliance have taken control of several areas in southern Afghanistan. The northern alliance, which is made of several factions, has seized cities in the north.
Rabbani, whose faction is the biggest in the alliance, has never relinquished his claim to the presidency, though the Taliban forced him out of Kabul in 1996.
The alliance is largely made up of minorities including ethnic Tajiks like Rabbani, Uzbeks and Shiite Muslims. The United Nations wants them to share power with Pashtuns, the country's largest ethnic group, from which the Taliban drew their strongest support.
Copyright 2018 The Associated Press. All rights reserved. This material may not be published, broadcast, rewritten or redistributed. We strive to uphold our values for every story published.