New York — Mourners from New York to the Dominican Republic gathered in separate ceremonies Sunday to grieve for the passengers of American Airlines Flight 587, the Dominican Republic-bound airliner that plunged into a suburban neighborhood shortly after takeoff.
"Oh Lord, we come before you with open hearts, with broken hearts," said the Rev. Ruben Diaz, who gave the invocation in New York after the singing of the Dominican and U.S. national anthems.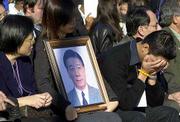 New York's outdoor, interfaith ceremony took place at Riis Park, about 2 miles from the crash site on the oceanfront Rockaway Peninsula of Queens.
Mourners included Mayor Rudolph Giuliani, Gov. George Pataki and U.S. Sens. Charles Schumer and Hillary Rodham Clinton.
It was intended to unite two communities that had little contact before the Nov. 12 crash. Many of the dead came from Washington Heights, a neighborhood that is home to the largest Dominican community outside the Dominican Republic. Belle Harbor, roughly 13 miles away, is largely Irish, Italian and Jewish.
"What binds us together today ... are the tears, a river of tears day and night," said Rabbi Michael Miller. "We shed rivers of tears for brothers and sisters, friends and lovers, whose companionship has been torn away so suddenly."
About 1,000 people attended the New York service.
Some 1,500 miles away, grief-stricken relatives crowded into the tiny Altagracia Catholic Church in Ojo de Agua, Dominican Republic.
About 100 people packed the church and spilled out into the yard behind for the funeral Mass remembering Jose Vicente Infante, 38, the first victim of Flight 587 to be returned to the island.
Infante lived in both countries. On his last trip to the United States, the car salesman was scouting for vehicles he could import to the dealership in the Dominican capital, Santo Domingo.
"All Dominicans have suffered, but in this particular case we are not mourning the victims of the crash but a friend, a brother, a partner and somebody who will always be in the heart of everyone in Ojo de Agua," said former Vice President Jaime David Fernandez.
Copyright 2017 The Associated Press. All rights reserved. This material may not be published, broadcast, rewritten or redistributed. We strive to uphold our values for every story published.