Ever met an adorable four-legged creature who likes to sing to Frank Sinatra tunes?
Well, Buddy is one talented dog.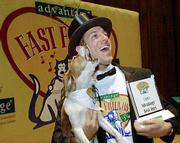 The singing talents of Buddy and his owner Jason Purinton, Lawrence, recently paid off. Buddy is a 3-year-old Brittany spaniel- Shetland sheepdog-terrier mix.
Buddy and Purinton beat nine other talented cats and dogs, and their owners, to win first place Tuesday in the Advantage Fast Friends Duets in New York. The duo sang a rendition of "New York, New York" that included phrases about Advantage's flea medication.
"He did a great job," Purinton said. "I like him to start out singing quietly and then get louder. He stood right by the mike like he was singing to the crowd."
And the competition was tough, and included a man who had a singing dog, played bagpipes and wore a kilt.
"I had a feeling I'd at least be in the top two," Purinton said. "As soon as I heard someone else got second place, I knew we won."
The musical duo won a professional recording studio session, a year's supply of Advantage Topical Solution, a $1,000 cash prize and the chance to appear in a future advertisement for the product.
To qualify for the New York competition, Buddy and Purinton were selected as 10 finalists at a Kansas City tryout in August. The duo sang "Lost that Puppy Feeling" to the tune of "You've Lost that Lovin' Feelin'" and the KC Chiefs' tomahawk chop chant.
"When I sing 'Go Chiefs,' he'll sing, and he'll do the tomahawk chop really good," Purinton said.
When Purinton adopted Buddy from Topeka's Helping Hands Humane Society nearly three years ago, he said he never thought his canine friend would learn to sing. Then one day, Buddy did.
"When he was riding in the car with me, I was singing and he just chimed in, probably to get me to stop singing," Purinton joked.
Earlier this year, Purinton saw a television advertisement for the Advantage competition and decided to go for it.
While in New York, the duo appeared on "Regis and Kelly" and the "Today Show" and did an impromptu song routine for a crowd in Central Park.
"He was a hit in New York," Purinton said. "Everyone wanted to pet him."
Back home, Buddy and Purinton have several interviews planned with area radio stations, including a recent one on Bob Vila's pet show. The interviews will include singing, of course, which they continue to do in the spare time too.
"He's actually come to me when he hears a song we sing a lot, and he'll look at me and wonder if we're going to sing," Purinton said. "He's a great dog."
Copyright 2017 The Lawrence Journal-World. All rights reserved. This material may not be published, broadcast, rewritten or redistributed. We strive to uphold our values for every story published.