The U.S. Constitution's meaning shouldn't change over time even during a national crisis Supreme Court Justice Antonin Scalia told Kansas University law students Thursday.
"The court's job is to support and defend the Constitution," Scalia said. "You don't just call it off in times of crisis. Whatever the Constitutional minimums are, the court will continue to enforce them."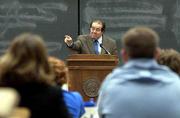 Scalia held two hour-long question-and-answer sessions for students Thursday. Both attracted a capacity crowd of about 150 people at a Green Hall classroom.
Scalia, 65, spent much of the sessions explaining his views as an "originalist" one who believes the Constitution's meaning hasn't changed since it was adopted. He said Justice Clarence Thomas was the only other originalist justice on the court.
"The Constitution is not a living organism," Scalia said. "It is a legal document. Like any legal document, it says some things and doesn't say others."
Scalia, who has been on the court since 1986, is often considered one of the most conservative of the justices and is known for sharply worded opinions.
But he said his views which include that the Constitution doesn't guarantee abortion rights have nothing to do with politics. Instead, he said, topics mentioned in the Constitution should be handled by enacting laws.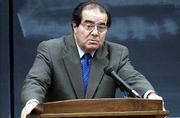 Bush v. Gore
One topic that came up in both sessions was Bush v. Gore, the case that ended Florida ballot recounts in the 2000 election. Scalia voted with the majority to end the recounts.
While he admitted the issue was a "no-win case" politically for the court, he defended the ruling and the decision to hear the case.
"It was classic legal involvement," he said. "We didn't inject ourselves. We didn't bring the suit. It was brought to us."
He said Americans have accepted the decision from the Supreme Court better than they would have if a political body such as the Florida legislature had ended the recounts.
"This was a hot potato. We stood up to the plate and did what we had to do," he said.
Scalia also defended President Bush's decision this week to possibly use military tribunals to try terrorist suspects in other countries. He said foreign criminals in foreign lands wouldn't have constitutional rights.
"It may be a bad idea to do it that way, but it can be a bad idea without being unconstitutional," he said. "There are very practical reasons for doing that. Nobody wants to capture Osama bin Laden and bring him back here to be tried by Judge (Lance) Ito (from the O.J. Simpson murder trial) for two years."
Scalia often interjected humor into his answers, including a response to a question about the recent anthrax scare at the Supreme Court.
"We were taking Cipro until we found out it didn't get out of the mailroom, at which point I chucked the remaining tablets," he said.
First-year law student Ryan Wilson said he didn't always agree with Scalia's decisions but found his appearance entertaining.
"I thought he was a character," Wilson said. "It was interesting to put a face behind the opinions we read."
Seanna Higley, another first-year student, agreed.
"We've talked about his cases in a number of classes, and he's pretty extreme," she said. "Now I can understand where he comes from."
First-year student Megan Bray said she was disappointed Scalia didn't discuss Bush v. Gore more. After answering several questions about the case at each forum, he indicated he wouldn't discuss it further.
"He evaded it a little bit," she said. "I thought he'd explain his position more than he did, but he really dodged it."
Scalia also visited a constitutional law class Thursday morning and attended a reception Thursday evening for KU alumni who served as court clerks on the state and federal level.
Today, he will meet with law students in the morning before attending a 11:15 a.m. luncheon at the Adams Alumni Center. Most of the 40 people expected to attend the luncheon are legislators.
At 12:30 p.m., Scalia will speak to KU honors program and pre-law students, and pre-law students from Kansas State University, Fort Hays State University and Pittsburg State University. That speech is at Woodruff Auditorium, but like other events is not open to the public.
Scalia spoke to about 500 people at the University of Missouri in Columbia Wednesday night. Several protesters stood outside the auditorium there with signs denouncing the 2000 Bush v. Gore decision.
This was Scalia's second trip to KU. He also came in 1996, while on a trip to speak to speak to a nonprofit Catholic organization in Kansas City, Mo.
Other visits
Other recent visits from justices include Clarence Thomas in 1996 and 1999, Byron White in 1996 and Stephen Breyer in January.
Law school dean Stephen McAllister has been successful in luring the justices to KU, in part because he served as a clerk for Justices White and Thomas from 1989 to 1991. McAllister will argue a case for the state of Kansas at the Supreme Court later this month.
A native of Trenton, N.J., Scalia attended Harvard Law School before starting his law career in Cleveland, Ohio. He taught law at the University of Virginia from 1967 to 1971, when he joined President Nixon's general counsel's office.
He was assistant attorney general under President Ford from 1974 to 1977, then had teaching stints at Georgetown University, University of Chicago and Stanford University.
President Reagan appointed Scalia to the U.S. Court of Appeals for the District of Columbia in 1982, then appointed him to the U.S. Supreme Court in 1986.
Copyright 2018 The Lawrence Journal-World. All rights reserved. This material may not be published, broadcast, rewritten or redistributed. We strive to uphold our values for every story published.