Bangi, Afghanistan — Northern alliance forces and Pashtun tribesmen encircled two of the Taliban's last remaining strongholds at opposite ends of the country Thursday. The Taliban's supreme leader vowed to fight to the death and to seek the "extinction of America."
Backed by U.S. warplanes, the alliance laid siege to the northern city of Kunduz, where the defenders include an estimated 2,000 to 3,000 foreigners loyal to Osama bin Laden.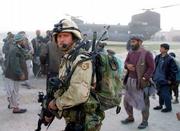 In the south, the Taliban clung to tenuous control of its birthplace, Kandahar. Opposition leader Hamid Karzai said his sources told him there was "turmoil" in the city; other sources said local Pashtun tribesmen had surrounded the city.
A U.S. official, speaking on condition of anonymity, said there were spurts of fighting near the city center as the Pashtun fighters advanced. Most of Kandahar province, outside of the city, is in the hands of anti-Taliban rebels, he said.
Gen. Tommy Franks, the U.S. commander of the Afghanistan campaign, said American special forces were operating near Kandahar. Inside the city, Franks said, "we do see signs of some fracturing" within the Taliban ranks. Pashtuns are Afghanistan's largest ethnic group and served as the backbone of the Taliban's harsh five-year regime.
Pakistan strengthened its border defenses closest to Kandahar with tanks and extra troops, worried that unrest and bin Laden supporters could spill across the frontier.
Developments Thursday related to the Sept. 11 terrorist attacks:Northern alliance forces and Pashtun tribesmen encircle two of the Taliban's last remaining strongholds at opposite ends of the country.American and allied forces are closing in on leaders of Osama bin Laden's terrorist network with focused airstrikes, timely intelligence and an active hunt by U.S. special operations troops, senior Pentagon officials say.The United States will find bin Laden even if he leaves Afghanistan, Defense Secretary Donald Rumsfeld says.Pakistan moves tanks and additional soldiers to secure its border with Afghanistan and prevent Osama bin Laden or his fighters from leaving.Eight international aid workers arrested three months ago for preaching Christianity in Afghanistan were reported in good condition in Pakistan after being helicoptered to safety by U.S. special forces. The women in the group, including two Americans, signaled to their rescuers by burning the body-covering burqas they had been forced to wear.U.S. Homeland Security Director Tom Ridge confirmed that documents that would be helpful in making a nuclear device were found in a building in Kabul, described as an al-Qaida safe house. But Ridge said the documents contained information taken off the Internet that could have been widely available to people other than terrorists.British troops arrived at the Bagram airfield, north of Kabul, on what the Ministry of Defense said was a mission to prepare the facility for use in a future humanitarian mission.In Washington, the Pentagon said some senior Taliban and al-Qaida leaders were killed in airstrikes this week, but had no evidence bin Laden was among them.
President Bush launched airstrikes against Afghanistan on Oct. 7 after the Taliban refused to surrender bin Laden, wanted in the Sept. 11 terrorist attacks on the World Trade Center and the Pentagon.
The Taliban supreme leader, Mullah Mohammed Omar, sought to portray the Taliban's recent retreats from urban centers as part of a larger strategy aiming to destroy America.
"If God's help is with us, this will happen within a short period of time keep in mind this prediction," he said in an interview with the BBC, conducted over satellite phone. "The real matter is the extinction of America, and God willing, it will fall to the ground."
Omar ruled out taking part in a multiethnic government like the one the United Nations has proposed for Afghanistan.
"The struggle for a broad-based government has been going on for the last 20 years, but nothing came of it," he said. "We will not accept a government of wrongdoers. We prefer death than to be a part of an evil government."
Kandahar came under heavy bombardment Thursday, the Pakistan-based Afghan Islamic Press said. It said eight civilians were killed and 22 injured, a report that could not be independently verified.
In Quetta, Pakistan, across the border from Kandahar, an anti-Taliban Afghan source speaking on condition of anonymity said anti-Taliban forces had captured Kandahar's airport and urged that the Taliban hand over bin Laden. The source's claims could not be independently confirmed.
In the north, alliance commander Gen. Daoud said his forces wanted to persuade low-ranking Afghan Taliban in Kunduz to surrender. He said foreign forces in the city believed to include Arabs, Chechens, Pakistanis and Chinese were pressuring Taliban fighters not to surrender.
"For the foreign terrorists ... there will be no negotiations, we will not deal with them, they are killers," Daoud, who uses one name, said.
In preparation for a possible assault by the alliance, high-flying U.S. warplanes pounded Taliban troop and tank positions, with what witnesses said was deadly effect.
"On one hill there were a lot of Taliban, and after the U.S. bombs hit, there was nothing living there," said 20-year-old refugee Jaglan Mohammed Sakhay.
Franks told a Pentagon news conference that the pocket of resistance around Kunduz includes 2,000 to 3,000 al-Qaida fighters, whom he described as "some of the more hardcore people."
Outside the city, traffic was an incongruous mix of fleeing refugees, some of them barefoot women in burqas, and alliance fighters crowded onto truck beds, headed for the front.
With the Taliban abandoning Kabul on Tuesday, speculation has grown that Burhanuddin Rabbani, Afghanistan's president from 1992-96 and titular head of the northern alliance, will return to the capital.
Copyright 2018 The Associated Press. All rights reserved. This material may not be published, broadcast, rewritten or redistributed. We strive to uphold our values for every story published.