Angelea Busby grabs the attention of Kansas University football fans by tossing twirling batons high above the Memorial Stadium turf during marching band performances.
But she got the attention of some marching band members in a different way.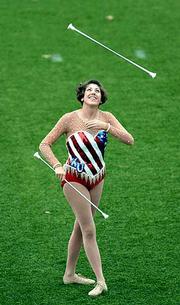 That happened last summer, when Busby, in her first year as KU's baton twirler, attended the Marching Jayhawks' band camp.
On a particularly hot day, her hands were sweaty and she lost control of a baton in. It flew and hit a tuba player squarely in the groin.
"All the boys in the band are a little scared of me now," she said.
KU hasn't had a twirler with its marching band in at least 15 years. Busby, now a sophomore strategic communications major, had asked to perform with the band since she was a junior at Shawnee Mission West High School.
Finally, second-year marching band director Timothy Oliver agreed to let her twirl this fall. He said he hasn't regretted the decision.
"At first, there was some apprehension (among band members) because we haven't had a twirler for so long," he said. "And, too, twirlers can sometimes have an attitude that doesn't complement what the band is doing. They want to be a featured soloist instead of another band member. Angelea has proven from Day One she's not like that."
Busby's mother, a former twirler at Central Missouri State University, Warrensburg, Mo., first introduced her to the sport at age 3. Practices, weekend competitions and sewing costumes have been a part of her life since.
Now 20, Busby is ranked fifth nationally in the 16- to 24-year-old age division of the National Baton Twirling Assn. in both one- and two-baton competition. She's ninth in three-baton competition. She has more than 500 trophies and plaques.
But performing with the Marching Jayhawks, she said, is the highlight of her career.
Busby is enrolled in the marching band class and is at each two-hour rehearsal on Mondays, Wednesdays and Fridays. Her goal is to blend in as part of the pregame and halftime performances.
"I want to complement the band," she said. "I don't want to be in the spotlight or be an eyesore."
Though Oliver gives her suggestions on placement on the field, Busby said choreography is basically left up to her.
She uses up to three batons in her performances, and she typically wears two outfits one for pregame and one for halftime. All of her equipment including the outfits, which range from $300 to $350 each is purchased by her parents.
Busby said twirling for a football crowd is different from twirling for competition. For instance, she said, tossing the baton high impresses football fans but doesn't impress judges.
And there's more pressure to keep the baton off the turf.
"In baton twirling, a drop is normal," she said. "You don't want it, but it's a common scene. It's only, like, a point off your score in competition. The football audience is a harder audience. When I do drop it, it's heartbreaking."
Busby has incorporated fake knives and feather boas into routines this season. She'd like to twirl flaming batons, but if she dropped one it would melt the AstroPlay synthetic turf.
As for the future of twirlers with the marching band, Oliver said he would review the policy every year. But as long as Busby is at KU, he said, he thinks she'll have a role in band performances.
"I've seen a lot of twirlers with a lot of marching bands, and she's by far the best," Oliver said. "With a talent like that on campus, we'd be foolish not to use her."
Copyright 2017 The Lawrence Journal-World. All rights reserved. This material may not be published, broadcast, rewritten or redistributed. We strive to uphold our values for every story published.