Mount Carbon, Pa. — Jeff Dunkel will soon be able to gavel his mother out of order.
His mother can retaliate by refusing to make him supper.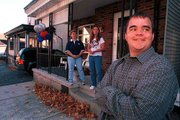 "And he still has to take the garbage out, straighten up around here, do the yard work," Kathy Dunkel said.
Jeff Dunkel, who became eligible to vote when he turned 18 in February, last week was elected to a four-year term as mayor of the small Schuylkill County community of Mount Carbon.
His mother won a borough council seat on write-in votes. The two Democrats will take office in January.
Jeff Dunkel's decision to run grew out of a project in his American government class at Pottsville Area High School earlier this year. He focused on his hometown population about 100, including 81 registered voters and didn't like what he saw.
"Nothing was getting done," said Dunkel, who graduated in June and now attends the Schuylkill Institute of Business and Technology. "I'd go to a council meeting in January and they'd bring up stuff, and it was the same stuff they brought up when I went to the meeting in February.
"People were talking about getting a policeman in the borough for months, but it never got done."
He became a regular at the monthly council meetings, held in the fire hall because the small borough building has been all but abandoned. His complaints drew a rebuke from town elders.
"They told me there's a lot of behind-the-scenes work in government that I didn't notice, and if I thought I could do better, why didn't I run for office?" Dunkel said. "They just wanted to shut me up."
He didn't. Instead, when he registered to vote, he gathered the forms needed to run for office. He got the required signatures from Democrats it takes a mere 10 of them to put his name on the May primary ballot as a mayoral candidate.
His opponent was an incumbent, John A. Furphy, who held the post for four years. Furphy's wife, Laverne, was mayor for 10 years before that.
Dunkel won the primary with 22 votes to Furphy's 10. In the Nov. 6 general election, he beat Furphy by a margin of better than 5-1: 43 votes to Furphy's eight write-ins.
Meanwhile, Kathy Dunkel, 44, became a councilwoman with 22 write-in votes to best two opponents. She actually won her primary race, but was so busy working at the local Lowe's home improvement store where she's manager of the seasonal department that she never certified her candidacy and therefore didn't appear on the ballot.
"Jeff really talked me into running," she said. "I joined forces with him because I agree with what he's saying and what his platform is.
"But he'll hear from me if we disagree."
As for his house chores, mother has cut son whom she calls a good kid some slack.
"I know he's been so busy with his campaign," she said, "so if things didn't get done right away I wasn't busting on him."
Copyright 2018 The Lawrence Journal-World. All rights reserved. This material may not be published, broadcast, rewritten or redistributed. We strive to uphold our values for every story published.