If Jean McClure writes a book about the perfect work environment for an elementary school librarian, it won't be an autobiography.
Her heroine would work full-time in one library, unlike McClure, who splits her days between New York and Riverside school libraries.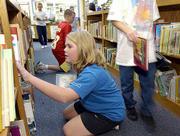 The library itself would be an inviting, flexible space that accommodates different sizes of student groups with a special area dedicated to computer library activities. Riverside's library is in an old classroom used to store an array of teaching supplies.
Shelves there would be plenty of shelf space, of course would be stocked with the best books and materials available in the school district. Again, McClure's schools fall short.
"It is unfair," said McClure, who has been a library media specialist in the Lawrence district since 1987.
Inequities in the Lawrence district's elementary libraries are the result of staffing and budget decisions made by the school board that make it difficult for small-enrollment schools to keep pace with the larger ones.
A library services gap is of concern to school districts because research has linked higher scores of students on standardized tests with schools whose library programs are better staffed, stocked and funded.
Studies reported last year in the School Library Journal indicated scores on state tests in Alaska, Colorado and Pennsylvania improved by 10 points to 15 points in schools with strong library programs and enough qualified staff.
In Lawrence, inequities stem from a district policy that stipulates full-time librarians can only be hired for schools with more than 250 students. Six of the district's elementary schools fall below that threshold and share a librarian.
Beth Welsh, the district's coordinator of library and media services, said staff-to-student ratio for libraries wasn't based on research showing small schools did well with a part-time librarian.
"It was an arbitrary number," Welsh said.
Her priority is to have a full-time professional, certified librarian available to all students during the school day.
Sharing staff
Currently, that's not the case at six schools. Those sharing a librarian: Cordley and Centennial, Woodlawn and Grant, New York and Riverside.
To reach Welsh's goal in elementary schools, the district would need to hire two new librarians. Grant will be closed next year, eliminating the need for a librarian there.
Jane Imber, librarian at Quail Run School, said adding support staff to the mix made elementary libraries more effective. Aides can take care of paperwork, shelving, interlibrary loans and other duties while the librarians assume a teaching role with students.
Librarians work with teachers to provide students "enrichment" activities that support the district's curriculum, Imber said. It's hard to meet needs of students and teachers if a librarian spends half the day at another school, she said.
"What's key to a library is being there when you're needed," Imber said. "The teacher, of course, brings the knowledge of students' needs and the curriculum. The librarian brings knowledge of materials and resources. Together we make a pretty powerful team."
Welsh said another factor that led to inequity of library resources was a policy requiring district money be allocated to schools based on student enrollment. Schools with more students are capable of building much larger book collections.
For example, Quail Run is considered one of the district's better elementary library programs and operates with more than 12,000 books.
Woodlawn School, which opened a new library last year, has 5,200 books.
"What we forget is that teachers and classrooms need the same level of support when preparing for an assessment," Imber said. "They need a collection to draw from."
Welsh said it didn't make sense to have half-time librarians at schools with a large contingent of poor students. She said it was these schools New York, for example that requires additional human resources, not less.
"We have a lot of kids without reading material at home and stories being read out loud," she said.
Summer library
Woodlawn Principal Joni Appleman said her students would benefit from a full-time librarian. The importance of access to books and a librarian is so great that she's examining the possibility of opening the school's library a couple times each week during summer months.
"What would be better than a neighborhood library?" Appleman said.
While book collection totals may sound impressive at some schools, there's a constant need to update materials. Science and geography are quick to be overtaken by events.
"We're cleaning house," Welsh said. "We're finding a lot of materials that are no longer correct."
She said modern school libraries had to have flexible activity spaces that permit simultaneous seating of one group of students for library research and another group for story time.
The school board recently hired a consulting firm to coordinate a study of district buildings. A goal is to create a template for what a Lawrence school should look like. That map will help the board seek facilities upgrades. Libraries will be part of that study.
"Lawrence runs the gamut," Imber said. "Our facility is one of the better ones. Some are inadequate."
Welsh said that at Riverside, which has the smallest library, there is no more room for shelves, computers or books in the converted classroom.
"If I gave them $5,000 tomorrow and said, 'Go add to your collection,' they couldn't do anything."
Copyright 2018 The Lawrence Journal-World. All rights reserved. This material may not be published, broadcast, rewritten or redistributed. We strive to uphold our values for every story published.