Members of the Lawrence American Legion, Disabled American Veterans and Veterans of Foreign Wars gathered Sunday to celebrate Veterans Day.
About 175 people attended the commemoration at the American Legion, 3408 W. Sixth St., said Don McDow, commander of the post.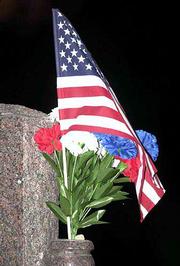 Speakers included Jim Henry, city commissioner, and Claudine "Scottie" Lingelbach, a KU graduate who served as an Ensign in Women Accepted for Volunteer Emergency Service, and is mentioned in Tom Brokaw's book, "The Greatest Generation."
"We dedicated this service today not only to our veterans living and dead, but to the people who died Sept. 11," McDow said. "Not just the policeman and fireman, but also the everyday people who died."
Veterans Day was originally called Armistice Day, remembering the World War I armistice signed at 11 a.m. on Nov. 11, 1918. It became Veterans Day in 1954.
Dorothy Smelser, a member of the American Legion Auxiliary, said the day had special meaning to her because her husband and son served in the armed forces.
"It's just to remind people," she said of Veterans Day. "And we've got more veterans coming up we've got people out there fighting."
The war on terrorism seemed to be on everyone's mind yesterday.
"It just seems like Veterans Day means more with what's going on now," said Bill Putnam, a veteran of the Vietnam and Gulf wars. "It's a little more important to us."
Putnam, a member of the 190th Air Refueling Wing, Kansas Air National Guard, based at Forbes Field in Topeka, stopped at the Lawrence American Legion Post Sunday with fellow guardsman Mark Mertel, and their wives, Lari Mertel and Linda Putnam.
Mark Mertel, a veteran of the Gulf War and Kosovo, said that being taken away from home and family was one of the hardest parts of being in the service.
"You have more of an appreciation of what Veterans Day is all about," he said.
Copyright 2018 The Lawrence Journal-World. All rights reserved. This material may not be published, broadcast, rewritten or redistributed. We strive to uphold our values for every story published.