Somber-faced ROTC cadets kept watch over a candle, flowers and the names of the Kansas University students killed in Vietnam Thursday night.
This year, when combat seems more likely than in years past, Veterans Day has new meaning.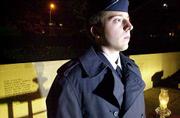 "Standing vigil last year was a solemn event, when I did it," said Will Nuse, a sophomore Navy ROTC cadet. "Then, it was an intellectual idea we could go to war. Now, it's a reality."
It's the fourth year for the 24-hour vigil, which ends at 4 p.m. today. Cadets from KU's Army, Navy and Air Force ROTC units will stand guard at the Vietnam Veterans Memorial on campus.
"We have to remember what people before us have done," Nuse said. "We have to remember what they've fought for because we'll have to fight again to make it ours."
Thursday's events began with a flag-lowering ceremony in front of Strong Hall. Then, more than 100 people attended a ceremony at Alderson Auditorium.
Retired Air Force Lt. Col. Barry Bridger, who spent six years in a Vietnamese prisoner-of-war camp after his plane was shot down, told the cadets their time in the military would be more difficult and dangerous than that of past cadets.
As in the past few weeks, he said flags were everywhere when he and other POWs returned from Vietnam.
"This is not a symbol of government," he said. "It's a symbol of hope, beauty and bloodshed."
Col. Kevin McNellis, the Air Force ROTC commander, said hearing from Bridger firsthand would help the cadets appreciate their liberty this Veterans Day, which is Sunday but observed Monday.
"Most of these young men and women were born into freedom," he said. "It's important for them to remember those who fought before."
Copyright 2018 The Lawrence Journal-World. All rights reserved. This material may not be published, broadcast, rewritten or redistributed. We strive to uphold our values for every story published.