Uniondale, N.Y. — Theo Fleury, Brian Leetch and Sandy McCarthy scored in a 65-second span in the first period as the New York Rangers emphatically ended the Islanders' Eastern Conference unbeaten streak with a 6-2 victory Thursday night.
Radek Dvorak, Mark Messier and Eric Lindros also scored for the Rangers, and Leetch added two assists.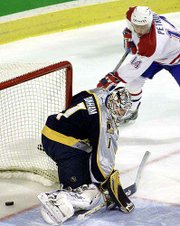 The Islanders (11-2-1-1) were 10-0 against conference foes and undefeated at home entering the game.
The charged series is still led barely by the Islanders, 80-79-17-1, with four games left this season.
After a goal at 2:01 of the first by Alexei Yashin fired up the capacity crowd, the Rangers responded with three of their own, leaving Islanders goalie Chris Osgood hanging his head in exhaustion.
The teams then traded fisticuffs.
Just as McCarthy put back a rebound of Steve McKenna's shot at 10:20, the Islanders' Eric Cairns clocked McCarthy in the face with the heel of his stick.
Fights, gesturing and name-calling ensued and 48 minutes of penalties were handed out to five players three Islanders, two Rangers.
Flyers 2, Lightning 1
Tampa, Fla. Tomas Divisek scored his first NHL goal. Divisek, in his fourth NHL game, gave Philadelphia a 2-0 lead at 10:59 of the second period.
He scored on a rebound from the right circle. Pavel Kubina scored a third-period goal for Tampa Bay.
Sabres 8, Thrashers 0
Buffalo, N.Y. Martin Biron made 16 saves for his first shutout as Buffalo's top goalie .
Maxim Afinogenov poked one past backup goalie Damian Rhodes to make it 8-0 with 6:36 remaining, giving Buffalo its biggest margin of victory since a 12-3 win over Ottawa in October 1992.
Buffalo had its biggest shutout since beating Pittsburgh 9-0 in 1980.
Canadiens 3, Predators 1
Montreal Brian Savage and Oleg Petrov assisted on each other's first-period goals as the Montreal Canadiens stopped a five-game winless streak .
Andreas Dackell scored with 5:05 left, and Jose Theodore stopped 31 shots as the Canadiens earned their first victory since Oct. 26.
Greg Johnson scored for Nashville.
Wild 5, Bruins 3
Boston Dwayne Roloson made 53 saves, and Andrew Brunette had two goals and two assists. Jim Dowd, Filip Kuba and Brunette had three power-play goals for the Wild.
Hurricanes 3, Capitals 2
Washington Jeff O'Neill scored the go-ahead goal with 5:20 to play as the Carolina Hurricanes rallied from a two-goal, third-period deficit.
Sami Kapanen scored twice early in the third period as the Hurricanes extended their lead to seven points over the Capitals in the Southeast Division.
Blues 3, Canucks 1
St. Louis Pavol Demitra scored twice, and Al MacInnis had a goal and an assist, leading St. Louis over Vancouver.
The Blues have won nine of 10 home games against the Canucks, who entered with three wins in four outings. St. Louis has won three of four.
Flames 3, Kings 2
Los Angeles Jarome Iginla recorded his second straight two-goal game, and Denis Gauthier had a goal and an assist as Calgary ran its unbeaten streak to five games by beating Los Angeles.
Iginla, who leads the NHL with 27 points, extended his point-scoring streak to 10 games (12 goals, 10 assists).
Senators 1, Avalanche 0
Ottawa Patrick Lalime made 21 saves for his second straight shutout and Martin Havlat scored with 2:41 left in the third period, beating defenseman Shjon Podein.
Copyright 2018 The Associated Press. All rights reserved. This material may not be published, broadcast, rewritten or redistributed. We strive to uphold our values for every story published.