Representatives from Kansas University and the Graduate Teaching Assistants Coalition on Thursday broke their silence after 11 months of contract negotiations.
GTAs say the university's base salary offer $7,000 per year indicates KU officials don't value their efforts. University officials say they'd like to pay teaching assistants more but simply don't have the money.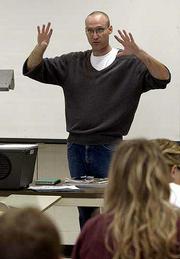 "It seems KU always identifies budget woes to justify cuts to basic educational needs," said GTAC president Amy Cummins, a teaching assistant in English.
Negotiations between KU and the GTAs began in September 2000. The two sides didn't negotiate during the summer.
GTAC seeks better pay, health benefits and more tuition and fee waivers for the university's approximately 900 teaching assistants.
A clause in the "good faith agreement" between the two sides prohibited either from discussing negotiations without giving the other side 48 hours' notice. GTAC members told the university Tuesday they wanted to go public.
"No. 1 is to let the public know what's really going on," said Maureen Schleyer, a GTA in sociology and communications coordinator for GTAC. "No. 2, it's for leverage. We probably can gain support from people who don't know what GTAC's about or about the negotiations."
According to information released Thursday by GTAC and KU, the university has offered $7,000 base pay, with $7,700 and $8,400 offered to second- and third-year teaching assistants. GTAs want $12,000, $13,000 and $14,000.
Currently, there is no base pay, and the average GTA pay is $9,946. KU spokeswoman Lynn Bretz said 46 student teaching assistants currently receive less than $7,000 per year.
GTAC also has requested the university pay all of GTAs' health insurance premiums and provide dental and vision coverage. Currently, KU on average pays half on each premium with no vision or dental coverage.
GTAC also wants the university to give full tuition and fee waivers to GTAs who work eight hours or more per week. KU now provides full tuition and fee waivers for those working 20 or more hours per week.
In addition to its base pay offer, the university has said it would:
l Request the same merit salary increase for GTAs as other faculty members.
l Request authorization from the state's Health Care Commission to subsidize GTA health insurance at the same level as other employees.
"There are a lot of issues the GTAs and the administration agree on," Bretz said. "We would like to be paying GTAs more. We'd like to be paying our faculty more."
A KU study shows teaching assistants make about 88 percent that of those at similar institutions. Board of Regents figures show GTAs at KU make more than those at other state universities.
But GTAC negotiators point to wages at the University of Michigan, where teaching assistants make at least $12,560 a year.
GTAC said the university should request money from the Kansas University Endowment Association to subsidize GTA salaries, as it has with some administrators.
Bretz said salaries should be the state's responsibility and the Endowment Association shouldn't have to foot the bill.
GTAC also cited an e-mail from Chancellor Robert Hemenway that members said showed the administration's attitudes toward GTAs. When Carol Tracy, a GTA in mathematics, e-mailed Hemenway about the inadequacy of health coverage, she said the chancellor replied she should consider Medicaid, a federal health program for the poor and disabled.
"That's such a callous thing to say to an employee," Schleyer said.
Bretz declined to comment on the e-mail.
GTAC was formed in 1991 and affiliated with the Kansas Association of Public Employees union in 1995. The first contract negotiated under the union was ratified in 1997. That agreement still is in place until a new contract is ratified.
Copyright 2018 The Lawrence Journal-World. All rights reserved. This material may not be published, broadcast, rewritten or redistributed. We strive to uphold our values for every story published.