Pat Baker's uncle lost both legs to diabetes before the disease took his life. Her diabetic older sister is legally blind, battling kidney failure.
Though Baker, a 49-year-old Haskell Indian Nations University student and Oklahoma Choctaw Indian, can't rewind to life before her 1992 diabetes diagnosis, she's learned from her family's mistakes and keeps a close eye on her health.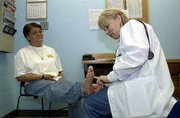 "I come in every three months for a checkup," Baker said Thursday morning as a nurse examined her feet at Haskell Indian Health Center. "I take insulin shots twice a day. I watch my diet and my weight."
And she dispenses the wisdom she's picked up from doctors to her 28-year-old son to try to keep him from developing diabetes.
It's a challenge American Indians and their health-care providers across the nation are beginning to tackle: how to prevent diabetes altogether as the age at which Indians contract the disease continues to fall and the percentage of the afflicted population rises.
The next generation
People like Baker are a big piece of the solution, said Cass Ryan, associate professor of nutrition at Kansas University Medical Center, Kansas City, Kan. Parents can make sure their children stay physically active and stick to a healthy diet practices proven to dramatically reduce the chance of getting diabetes.
Ryan herself is part of Haskell's answer to the prevention problem. A registered dietitian, she meets with diabetic patients every Thursday morning at Haskell's diabetes clinic and teaches a nutrition class at the Haskell campus.
"Almost all of the students have a history of diabetes in their family," Ryan said. "Why? There are lots of theories. One I relate to students a lot is that their ancestors had to survive periods of deprivation. They have a nice history of being efficient at using food, but now we're in a time of abundance."
So, those people whose bodies were conditioned to store fat are becoming obese now that food is readily available and the population is more sedentary, she said.
The Haskell center used to hold aerobics classes three times a week for students, faculty and staff, said Dee Ann DeRoin, a physician who worked at the center from 1982 until 1990 and again from 1998 to this past January. There's still a noon aqua aerobics class, and the university's facilities department has started its own walking program, DeRoin said.
Between 250 and 300 of the center's roughly 8,500 patients from Douglas County, Topeka, Kansas City, Independence and elsewhere receive diabetes treatment, Director Randy Barnoskie said.
"It's our biggest expense," he said.
Like other Indian Health Services facilities, Haskell's health center gets a chunk of the $100 million a year Congress has appropriated from 2001 to 2003 to establish programs for diabetes treatment and prevention in Indian nations. So far, the money has gone toward glucose self-monitors, other diabetic supplies and improvements in diabetes education, Barnoskie said.
The latest installment of funds, to be spent in the coming year, is earmarked for hypertension medication and a study of childhood obesity in Douglas County. Part of the next year's money will pay for the development of a plan to combat childhood obesity, Barnoskie said.
On the reservation
It's hard to judge how many Kickapoo Indians are living with diabetes on or near the tribe's reservation in Horton, said Deborah Gee, diabetic coordinator at the Kickapoo Nation Health Center.
"Less than 100 people allow me to follow them," she said. "Some are not diagnosed. A lot do not go to the doctor and don't show up for regular physicals. I've pulled some out of the woodwork since I've been here this year. I feel good just because I've been able to bring them back into our system."
One thing she is sure of and worried about is that a lot more of the tribe's children are developing diabetes.
"We've had about four (children) in our small population this year diagnosed with Type 2 diabetes, and the year isn't over yet," she said.
That statistic reinforces the importance of recent prevention efforts on the reservation. There's been a diabetes awareness movement at the Kickapoo school, where speakers come to familiarize youth with diabetes and how to prevent it by exercising and watching what they eat, Gee said.
"We've just kind of gotten the ball rolling this year," she said. "We're wanting to come up with new ideas."
Gee has run diabetes prevention and management information on the reservation's radio station and in its newspaper. She said she'd love to see the Kickapoo follow the lead of Indian nations in other parts of the country that are returning to raising and eating traditional tribal foods.
"If you go back to your primary roots, no matter where you originated, I think it would be the best thing you could do for yourself," she said. "For thousands of years, you lived off these certain foods. If you go changing your body plan, of course your body's going to be confused."
Until such a renaissance occurs, however, Gee tries to keep an eye out for patients at the Kickapoo clinic who show signs of diabetes. The clinic provides eye exams, dental checkups, insulin, glucose monitors and other supplies to diabetic patients.
"For the small clinic that we are, I think we're doing a fairly good job," she said.
Copyright 2018 The Lawrence Journal-World. All rights reserved. This material may not be published, broadcast, rewritten or redistributed. We strive to uphold our values for every story published.