Washington — Jarred by the terror attacks, consumers put away their wallets and credit cards last month as spending dropped by the largest amount in almost 15 years. Manufacturing plunged, too, as evidence increased that economic fallout from the attacks probably has pushed the country into recession.
Before the attacks, consumers, whose spending accounts for two-thirds of all economic activity, had been the main force keeping the economy afloat for more than a year. But spending declined by 1.8 percent in September as Americans stayed away from stores.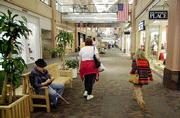 With consumers ratcheting back their spending, manufacturers in October turned in their worst performance since February 1991, when the country was mired in its last recession.
The National Association of Purchasing Management said manufacturing activity sank to 39.8 from 47 in September, the 15th consecutive month of decline. An index above 50 signifies growth in manufacturing, while a figure below 50 shows contraction.
Manufacturers have been hardest hit by the economic slump. To cope with sagging sales, factories have cut production sharply and slashed 1.1 million workers from payrolls in the last 14 months.
The batch of economic news released Thursday showed that the damage inflicted by the attacks was worse than many analysts had expected. Economists believe the economic picture is likely to get worse before it gets better.
Economists fear that continued fallout from the attacks, new worries about anthrax in the mail, plunging consumer confidence and the specter of rising unemployment in the months ahead, will keep consumers tightfisted, further weakening the economy.
The economy shrank at a rate of 0.4 percent in the July-September quarter and economists are forecasting an even bigger drop in the current October-December quarter.
Copyright 2018 The Associated Press. All rights reserved. This material may not be published, broadcast, rewritten or redistributed. We strive to uphold our values for every story published.