Several years ago, organizers of McLouth's annual barbecue lured then-Sen. Bob Dole to the event by telling him 1,000 people would be there.
They knew it was an overestimate. In the early 1990s, only about 500 people attended the cook-off each year.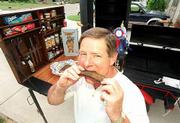 But organizers need not fib anymore. Recent crowds for the event have numbered in the thousands.
Between 3,000 and 4,000 people are expected Saturday to watch 37 barbecue teams cook up brisket, pork ribs, pork and poultry at the 10th annual McLouth BBQ Blowout. The event runs from 9 a.m. to 3:30 p.m. at Prairie Park.
"It's grown a lot," said Cliff Weeks, McLouth Recreation Commission chairman. "We started pretty small, but now we have almost 40 teams competing and activities for children and adults alike."
Besides the cook-off, the event will feature a 5K run, helicopter landing, motorcycle show, remote-control airplane show and petting zoo. Local vendors will sell food, crafts and sports cards.
Individuals can sample contestants' grill creations and later vote for their favorite in the People's Choice Award.
The taste buds that count for the big prize are those of 42 judges, whose eyes and palates will evaluate meat tenderness, taste and appearance. Winners will receive cash prizes, and the champion will advance to the American Royal barbecue contest in Kansas City, Mo.
Bob Schaffer, Lawrence resident and seven-time contestant, said the awards are secondary.
"I've never won it, but I've almost always been happy when I left," he said. "We really cook to suit ourselves."
Copyright 2018 The Lawrence Journal-World. All rights reserved. This material may not be published, broadcast, rewritten or redistributed. We strive to uphold our values for every story published.