There are all kinds of rock and roll dreams. Some people want to be the band, some want to do the band, and believe it or not, some actually want to schlep the band's gear from town to town.
My early forays into the working world behind the scenes at rock shows didn't come about through pursuing a love of music. My first crew call was in wardrobe for "Sesame Street Live" back in 1989. The job consisted mainly of helping human-sized Muppets remove their incredibly stinky heads during brief, offstage respites. Nothing in that experience, however, prepared me for the glamor of such tasks as greasing the bottom rail of Bon Jovi's over-the-crowd catwalk with Vaseline to foil teeny-bopper grips, or delivering backstage passes to would-be conquests for members of Public Image Limited.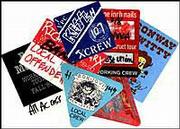 Back in the early '90s when I worked as a local crew stagehand, I often imagined what it would be like to be with a tour not for one night, but for the long haul as a roadie. Somehow, I resisted the call of the road.
Now that the Web isn't just for bomb-builders and pornographers anymore, it's easy to get a glimpse of that world online through the efforts of Karl "Roadie for Life" Kuenning's Web site Roadie.net (www.roadie.net). Kuenning was a full-time, professional roadie from 1975 to 1979.
Roadie.net provides a wealth of information for the roadie wannabe, nostalgia for former roadies, and interesting and entertaining reading for the merely curious. And for someone who has spent a lot of time backstage at concerts working around these touring professionals, there's material that both dispels myths and confirms suspicions.
Highly recommended reading on the site includes the sample chapters from Kuenning's forthcoming book, "ROADIE: a true story (at least the parts I remember)." "A Day In the Life" is an unromantic, must-read breakdown of a typical working day on the road. The chapter titles alone make me want to buy the book. How can anyone resist the promise of "How Much Wood Can a Woodchopper Chop? (Groupies)," or the implicit dread of "Hay, you must be Buck Owens (Buck Owens and a show done from a hay wagon)."
The whitewash-the-fence trick
In my salad days, I always felt that the local crew was fodder for roadies, a focus for ridicule and a plaything to be manipulated for convenience and amusement. Over and over again after a show, the roadies, based solely on their own desire to hit the highway at a targeted time, would goad the locals. They'd flatter us, telling us that based on how well we'd worked all day, they thought we had a shot at besting the tour's previous load-out record. "Cincinnati got us out in two hours and 20 minutes."
Then na young hustlers, utterly unmindful of the fact that we were getting paid on the clock, would have the trucks loaded in two hours and 10 minutes, collect a thank you, a handshake and glory of glories, a T-shirt.
Wise to the ruse, I played along for the good of the team, then fell filthy into bed at 3 a.m., filled with illusory pride in besting those sorry, Ohio union hands.
Roadie.net features a chat room, a message board, roadie submitted photos, roadie recipes and a very informative roadie glossary. I bet you didn't know that a "pickle" is the controller for the motors that lift the rigging for the lights and speakers.
Road justice
My favorite part of the site is the submitted roadie stories. Such as the tale of roadie vengeance for a disreputable road manager that includes the climax: "Suddenly he was on the floor with his hands and feet bound in an instant with the roadies' best friend, you guessed it, gaffers tape. He was then carried while wiggling intensely and resembling a cocoon to front center stage where a rope had been attached to a rigging point and was being lowered down. The rope was secured to his ankles and before you could say "Road Justice" he was swinging side to side like a pi.
"Within seconds the follow spots were cued on him and he was illuminated with the intensity of an airport runway. The audience of about 20,000 enjoyed this 'extra bonus for the price of admission' greatly and shifted from being spectators to participants by trying to hit the moving target with a barrage of Bic lighters."
There are other roadie resources on the Web as well. Most of these can be found on Roadie.net's links page. There's a site by and for tour bus drivers www.rocktour.net. There are equipment and crew links at www.backstageworld.com. I found an amusing Flash-based roadie game at www.virtualroadie.com. You can find reminiscences from retired roadies, job listing sites, humor sites and equipment information. There's plenty on the Web for the aspiring lighting and sound techs, backline and instrument techs, drivers, tour, road and production managers, merchandisers and wardrobe personnel. Now all you have to do is resist the siren song of the road.
Copyright 2018 The Lawrence Journal-World. All rights reserved. This material may not be published, broadcast, rewritten or redistributed. We strive to uphold our values for every story published.