Wild Oats left town five years ago, and the folks at Community Mercantile Co-op don't ever want to see it return.
And they're spending $1.3 million to open a new, bigger store of their own at 901 Iowa just to be sure.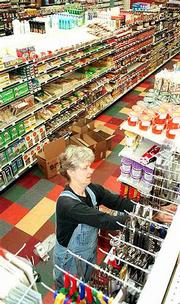 "For 27 years we've carved out this natural foods niche in this town, and this is our opportunity to grab it," said Nancy O'Connor, nutrition educator at the co-op, 901 Miss. "By moving to this store, we have said that we are making a commitment to this community.
"We said it first and this store says it loud and clear: We're going to grab this market and serve it, serve it, serve it to the point that another natural foods store doesn't need to come here."
The co-op, affectionately known as the Merc, officially closes its current home at 9:30 p.m. today and launches a feverish rush to open the new store at 7 a.m. Monday.
The new place will offer more of everything, O'Connor said. Its 14,000 square feet of retail space doubles the current shopping area, and the parking lot has nearly twice as many parking spaces.
Among the Merc's most notable additions:
l A floral shop run by Lynn Byczynski, co-owner of Wild Onion Farm south of Lawrence, featuring fresh flowers from area growers.
l A meats department with fresh cuts of organic beef and pork from area producers, plus a selection of fresh seafood.
l A satellite branch of the video department of downtown's Liberty Hall.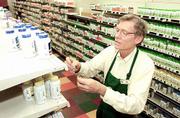 And, in a nod to its customers' daily needs, the Merc will sell a basic selection of traditional goods, O'Connor said. A walk through the new aisles reveals a jar of Ragaditional Old World Style" spaghetti sauce sharing shelf space with Amy's Premium Organic Pasta Sauce; Hellmann's Real Mayonnaise below the eggless Spectrum Naturals Lite Canola Mayo; and Kingsford lighter fluid alongside Nature's Own chunk charwood.
Carey Treanor, a longtime Merc customer, can't wait.
"I'm excited about the idea of buying most of my groceries in one store," said Treanor, who also helped design the Merc's new interior. "Instead of going to three grocery stores, now I can just go to one."
The Merc's move clearly was by competitive design. Many of the co-op's members and leaders recall a bitter battle with Wild Oats that finally ended in 1996, when the country's No. 2 natural foods chain closed up shop at 1040 Vt.
Last May, when Joe Schmidtberger announced that he would be closing his Alvin's IGA grocery store in the Hillcrest Shopping Center, Merc members moved fast. They soon secured a lease for the building, bought much of its equipment and made plans for an upgrade.
The Merc's total project budget is $1.3 million, 25 percent of it from a bank loan, manager Jeanie Wells said. The rest came through available cash, member loans and donations, including a $200,000 gift from Tensie Oldfather.
Co-op members even signed up to buy individual plants and trees for the project's landscaping, saving the Merc $6,000.
The new store will open with about 90 employees on the payroll, up 15 since January. The Merc had fewer than 30 employees eight years ago when it moved into the former bowling alley at 901 Miss.
To mark the history, Merc employees, leaders and members will walk from the old store to the new one beginning at 11:30 a.m. Monday with old Merc T-shirts, newsletter clippings and other mementos in hand.
Only then will the move into the future be complete.
"We're not running to catch up anymore," O'Connor said. "We're here, and it's a good feeling. We're not looking over our shoulders anymore."
Copyright 2018 The Lawrence Journal-World. All rights reserved. This material may not be published, broadcast, rewritten or redistributed. We strive to uphold our values for every story published.