Michael Powell, one of the country's most prominent booksellers, laughed when reminded that at last year's BookExpo America, he predicted electronic publishing was coming "at lightning speed."
"Did I say that? I must have had a couple of martinis," said Powell, owner of Powell's Books in Portland, Ore.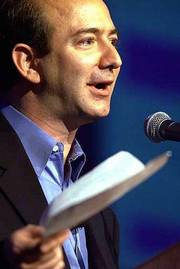 This weekend's BookExpo America should pretty much resemble the one in 2000, with thousands expected to return to Chicago for the publishing industry's annual national convention.
But you can also bet on one major no-show: dot.com fever. With the future of Amazon.com and other online stores ever uncertain and sales for e-books still tiny, there's a general sense that e-commerce will likely complement, rather than replace, the paper kind.
One seminar at the convention is diplomatically titled "The Twenty-First Century Publisher: How to Profit in the Combined Print and Electronic World."
"I think there's a far more realistic understanding of what the Internet does for book selling," said Oren Teicher, chief operating officer of the American Booksellers Assn., which represents thousands of independent retailers.
"Those who looked at the Internet as the solution to everyone's problems have to understand that e-commerce is like adding an audio section to your store. It's just another piece of your business."
BookExpo America, a three-day event at Chicago's McCormick Place, ends Sunday.
The industry has hardly given up on the online market; e-books and e-publishing will be promoted, debated and analyzed at BookExpo America. Subjects for panel discussions include "Igniting the eBook Consumer Market" and "Show Me the eMoney: An eEra Royalty Review."
The e-market continues to grow, although at a slightly slower pace. According to Ipsos-NPD, an Illinois-based research group, the Internet share of adult book purchases jumped from 1.9 percent in 1998 to 5.4 percent last year. In 2000, online book buying increased to 7 percent.
But the guest list for BEA offers a clue to how thinking has changed since 2000. A featured speaker at last year's convention was Amazon.com founder Jeff Bezos, invited for the new-fashioned accomplishment of running an Internet retailer. This year a featured speaker is General Electric Chairman Jack Welch, invited for the old-fashioned accomplishment of writing (actually, co-writing) a book.
BEA is where the "hot" titles for the fall start to simmer, among them Welch's "Jack: Straight From the Gut," for which he received a $7.1 million advance from Warner Books.
Also promoting their books will be the usual mix of celebrities, political figures and literary writers, including record producer Quincy Jones, musician Wynton Marsalis, Clinton confidant Vernon Jordan and novelists Isabel Allende and Joyce Carol Oates.
"We're always looking for new ways to bring books and readers together, whether that's the Internet or other new technologies" said Joyce Meskis, owner of the Tattered Cover bookstore in Denver, Colo. "But most of all it's about finding good books."
Besides allowing book sellers to review upcoming releases, BEA serves as the annual national meeting for independent bookstores, which have endured another difficult year. Thanks at least in part to competition from chain stores and the Internet membership of the American Booksellers Assn. dropped from 2,830 to 2,461.
The association will pay greater attention at BEA to an increasingly important retailer: the specialty store, the little guy among little guys. A series of roundtables discussions will cover such genres as science fiction, children's books and travel.
"Specialty stores sometimes feel like second cousins and it's clear to us we need to work more effectively in devising programs for them," Teicher said.
With Barnes & Noble and other superstore chains forcing so many general retailers out of business, those who concentrate on travel books or children's titles have done relatively well. Teicher says such stores comprise 35 to 40 percent of the ABA, a big increase over the last decade.
Copyright 2018 The Associated Press. All rights reserved. This material may not be published, broadcast, rewritten or redistributed. We strive to uphold our values for every story published.