For John Hughes, Memorial Day is a time to reminisce about his time as a Marine during the Vietnam War and to remember those who didn't make it back alive.
"I have some good friends here," he said, motioning to the gravestones at Lawrence Memorial Park Cemetery.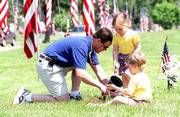 Hughes was one of hundreds in Lawrence who on Monday honored Americans killed during military service. He attended a ceremony at the cemetery that included a gun salute and a bugler playing "Taps."
"It helps me," he said. "This is one of the times of the year I can let my emotions go, and I'm not alone. It brings back memories."
State Rep. Barbara Ballard, D-Lawrence, led the 100 people who gathered at Memorial Park Cemetery in "The Star Spangled Banner," then urged them not to lose sight of the meaning behind Memorial Day.
"We should remember these people all the time," she said. "But especially remember them today to say, 'Thank you. Thank you. You're appreciated.'"
Earlier in the morning, Grant Caughey, commander of Jayhawk Chapter 22 of the Disabled American Veterans, delivered a similar message at Maple Grove Cemetery.
"Just remember a veteran," he told the group of about 30. "There are so many veterans out there at this gravesite. It's such a beautiful day. The sun's shining. Just walk around and think about the veterans."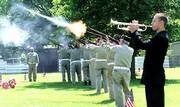 Bill and Virginia Harris, who attended the Maple Grove service, were focused on remembering their son, Army Sgt. Timothy Harris, who was killed in 1986 on duty in Germany. They also planned to attend a ceremony Monday morning at Fort Leavenworth.
"It's a special day to remember him," Virginia Harris said. "When I see the soldiers up at Leavenworth, I usually tell them that I hope they go home and have a picnic with their families. That's what Tim would have wanted."
Patriotic parade
Residents of Barker neighborhood found a more unconventional way to celebrate Memorial Day. About 100 neighbors gathered for their annual Memorial Day parade, an event first organized by David and Sarah Thiel about seven years ago.
The neighbors played "The Star Spangled Banner" and "Taps" on kazoos before starting on their square-block parade route, from 16th and New Hampshire to 15th Street, over to Rhode Island and back.
Youngsters decorated their bikes and wagons with flags. A fire truck and ambulance escorted the parade-goers.
"I like it because it's a happy way to celebrate Memorial Day," said 13-year-old Lindsey Kennedy. "They died for a good cause; there's no reason to be sad. It's patriotic, too. Everybody has flags."
Charlie Upton played patriotic tunes on his trumpet as he marched along.
"It's a little bit of an education lesson for the kids what Memorial Day is about," he said. "And it's a good chance to meet neighbors, to boot."
Flag quest
In Eudora, Joy Clouse won't be content until every house is flying a flag on patriotic holidays.
Clouse and Rex Burkhardt, who are involved in the Eudora Area Historical Society, used Memorial Day as a kick-off for their campaign to convince every resident to fly the flag.
As Eudora grows, Clouse said, the residents need to find common bonds.
"I can't think of a better way to do it than through our flag," she said. "I have a lot of respect for it and love it."
Their campaign fell short of the goal; houses without flags still far outnumbered those with flags on Monday. But Clouse hopes for more participation on Independence Day.
"It's great to see those flags fly and know the veterans fought for them," she said. "I'm afraid we're losing sight of that over the generations."
Copyright 2017 The Lawrence Journal-World. All rights reserved. This material may not be published, broadcast, rewritten or redistributed. We strive to uphold our values for every story published.