Attention shoppers: Beware of retailers bearing gifts.
If it seems you're being asked to sign up for store credit cards more often, there's a reason. Retailers are convinced that the best way to make you a better customer is to sign you up for their cards.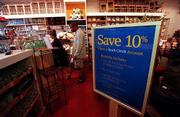 Private-label cardholders shop more often and spend more per purchase, according to retailers and industry statistics. Store credit cardholders will spend at least 50 percent more each year with a retailer than noncardholding customers, according to GE Card Services, which operates the credit-card businesses of several retailers, including J.C. Penney Co., Wal-Mart Stores Inc. and Gap.
But too many store cards isn't a good thing, said Bettye Banks, senior vice president of Consumer Credit Counseling Service of Greater Dallas. She said consumers should choose cards carefully.
The worst offenders Banks has seen in her 23-year career in the consumer counseling business were a married couple that had 93 active cards.
"They had every card you could think of, from Foley's to Neiman Marcus and several Visas and MasterCards between them," she said.
Reward program launched
Neiman Marcus was the first store card to establish a reward program for its customers. The InCircle program began 17 years ago.
"The program premiered as a thank you to our customers, but we use it to maintain and attract new customers also," said Jeff Netzer, vice president of marketing and customer programs for Neiman Marcus Stores.
"The proliferation of new reward programs is constantly raising the bar for us and for everyone else. That's challenging. But we have to come up with new exclusive gifts and travel opportunities."
Neiman Marcus just increased the perks it offers InCircle customers to include Lexus automobiles, a two-week trip to the North Pole and United Airlines miles. To get those top perks, a shopper would have to accumulate 2.5 million points for the Lexus and 1 million points for the Arctic adventure. Shoppers get a point for each $1 they charge.
Wal-Mart Stores Inc., on the other hand, just joined the game but has been successful. The company issued its own credit card for the first time in late 1999 and signed up more than 3 million cardholders in its first year.
Wal-Mart also actively went after Montgomery Ward credit-card customers earlier this year when that retailer went out of business.
Shoppers stick to brands
Customers are loyal to brands, especially those that offer benefits, but people should avoid paying for those perks, Banks said.
She's "extremely loyal" to a department store that was the first to issue her credit in her own name more than 20 years ago.
"If you have a favorite store and know that 90 percent of the time you're going to find what you want there, there's nothing wrong with using that store's credit card," Banks said.
"But it's just like any other credit card: Use it as long as you pay off the balance."
Retailers realize that consumers like the lower interest rates, airline miles and other perks offered by Visa, MasterCard and American Express.
That means stores are getting more creative about what they offer in exchange for using their cards.
Stores offer enticements
Pier 1 established gold, premium and platinum card levels that reward shoppers with $100 gift certificates for every $1,000 they spend within a year.
Steve Mowrer, vice president of credit card services for Pier 1 Imports Inc., said the chain's cardholders spend three times more per visit than noncardholders on average.
"They also shop with us two to three times more often," Mowrer said.
The Fort Worth, Tex.-based furnishings chain conducts cardholder-appreciation weekends, when everything is an additional 10 percent off.
"With our retail credit card, we can identify who our best customers are and mail them special offers, our in-house magazine and continue to build the relationship," Mowrer said.
Kohl's Corp. was one of the first midpriced chains to use its credit card as a marketing tool and tie it to rewards. Kohl's cardholders who spend $600 a year at its stores get to pick four personal sales days in addition to eight special sale events a year for cardholders.
GE Capital relaunched the Penney card last year and added a program called Insiderperks that offers shoppers free gifts with purchases and discount coupons. Penney's credit-card sales increased to $8.2 billion last year from $7.8 billion in 1999.
Target appeals to shoppers' philanthropic side by donating 1 percent of Target credit-card purchases to a school of the customer's choice. It's also been actively soliciting customers in recent months with free gifts and 10 percent discount offers.
While some store credit-card perks can result in savings, the finance charges on accumulated balances remain among the highest. Most store revolving credit cards come with a 21 percent annual percentage rate, but some are higher.
Visa and MasterCard bank cards offer significantly lower finance charges to people with good credit. The rates can drop even lower if perks such as airline miles are excluded. Citibank AAdvantage is offering variable rates as low as prime rate plus 3.9 percent.
Appliance and electronics stores such as Circuit City and Best Buy offer some of the best deals for consumers who can pay off balances on time. Circuit City's 12-month, no-interest offer accumulates deferred finance charges on balances at a rate of 22.3 percent. But the interest is waived if balances are paid within the promotional period.
Consumers can benefit from some of the store card offers, such as an immediate 10 percent off on purchases, but not if they can't handle the responsibility, Banks said.
"I just opened one for the discount because I was buying some things for my daughter and her new apartment," Banks said. "But I paid it off and really got the 10 percent off."
Copyright 2018 The Lawrence Journal-World. All rights reserved. This material may not be published, broadcast, rewritten or redistributed. We strive to uphold our values for every story published.