State-hired consultants working on the South Lawrence Trafficway project took a firsthand look Friday at the Baker Wetlands.
Environmental consultants hired by the Kansas Department of Transportation led a tour of the existing wetlands and offered information about proposed man-made wetlands.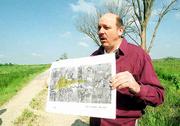 KDOT is considering creating about 400 acres of wetlands adjacent to the existing Baker Wetlands as part of a plan to mitigate damage from the trafficway.
The state is still considering five trafficway routes that would follow either 31st, 32nd, 35th or 38th streets or go south of the Wakarusa River.
Ten representatives of KDOT and the Kansas City engineering firm HNTB got a crash course in what makes a wetland.
"Areas only have to have three weeks of water a year and can still be defined as wetlands," said Ted Cable, a professor and park designer at Kansas State University. "Wetlands do not require standing water." In fact, he said, the land mainly covered with native prairie grass that runs south of the dike, more closely resembles a "natural wetlands" than the areas now retaining water nearly year round.
Cable and Virgil Brack, a biologist and owner of Environmental Solutions and Innovations of Cincinnati, are studying types of vegetation, conducting soil analyses and mapping the boundaries of existing wetlands. Their work is scheduled to be done this summer and will be included in KDOT's draft environmental impact statement.
Once the land for a replacement wetlands is selected, Brack said, vegetation and wildlife must be added and the land monitored for several years.
"You've got to put the right type of plants in the right place to help nature along," he said.
Brack said the Santa Fe Wetlands near 31st Street and Haskell Avenue was a good example of man-made wetlands. The wetlands were created in the early 1990s to provide habitat for native frogs, he said.
The 400-acre area being considered for new wetlands is to the west, between Iowa and Louisiana streets and bordered by 31st Street and the Wakarusa River. The area was a wetlands for many years before being drained for agriculture, and was last farmed about 25 years ago. Creating wetlands east of Haskell Avenue, and east of the existing wetlands, also is being considered.
The proposed plan could expand the 573-acre wetlands to the west and east of its present location, creating a buffer zone on both sides.
In addition to the environmental studies of the wetlands, engineering studies are being done by KDOT and HNTB.
Terence Flanagan, HNTB vice president and project manager of the SLT study, said the engineers are studying different ideas for alignments.
Depending which route is selected, he said, Louisiana Street could be moved west and/or Haskell Avenue could be shifted east, roughly between 31st and 35th streets, and then removing the existing roadway. He said it also might be possible to move Baldwin's city water lines out of the wetlands. Those efforts would help protect the wetlands, he said.
"Anytime there's a project like this you want to take the opportunity to make improvements," Flanagan said.
The engineering studies will be included in the draft environmental impact statement, which is expected to be completed in December.
Alison Reber, president of Jayhawk Audubon Society, said it's good the state is doing the studies, but the information may be a little too late.
"They're not any closer to getting the road done than they were before," she said, adding the society still prefers a route south of the river.
Copyright 2018 The Lawrence Journal-World. All rights reserved. This material may not be published, broadcast, rewritten or redistributed. We strive to uphold our values for every story published.