Douglas County Sheriff Rick Trapp says he can't pay his deputies enough to keep them on the job.
With other area law enforcement agencies paying several thousand dollars more than the county's average starting salary of $26,978 for deputies, it's tough to keep help, the sheriff said.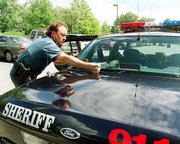 For now, Trapp said, his department is short 11 correctional officers and deputies.
"I want to get us up to full staff, and that won't be an easy undertaking," he said.
The Sheriff's Department has 123 employees. The overall budget for his department, district court security and the jail is about $6.25 million for 2001 making it one of the county's largest expenses.
Trapp said he was putting together a budget proposal for county commissioners that would make the salaries of his patrol officers competitive with other agencies. What he doesn't know yet, he said, was how much more money his agency would need to boost pay.
The average starting salaries for officers at the Lawrence Police Department is $31,096; Overland Park Police Department, $33,264 and Baldwin Police Department, $34,486. He said the information was collected during a recent survey of area law enforcement agencies.
Trapp said his recommended budget would go before the county commission in early July. He said his first priority was paying his deputies a competitive wage.
Because of that need, he said, he doesn't have the resources to provide some requested law enforcement services.
For example, Baldwin would like a sheriff's substation in the town.
"We're just interested in maximizing our protection level," Baldwin Mayor Ken Hayes said.
But Trapp says that can't happen, though he's interested in doing a Baldwin substation in the future.
"With our limited resources," Trapp said, "we try to patrol Baldwin when we can."
The department has responded to various calls near Baldwin, aided with investigations and has one deputy assigned to the county's southern area, Trapp said. And Baldwin Police officers also help respond to calls outside city limits.
"It's not like we ignore the southern part of the county," Trapp said.
Baldwin usually has one or two police officers on duty at all times, Hayes said, but it's not always enough. He said if an officer has to take someone to the county jail, that leaves only one officer available.
Hayes said he knows the Sheriff's Department substation is probably a few years down the road, but he wants to start laying the groundwork.
Copyright 2018 The Lawrence Journal-World. All rights reserved. This material may not be published, broadcast, rewritten or redistributed. We strive to uphold our values for every story published.